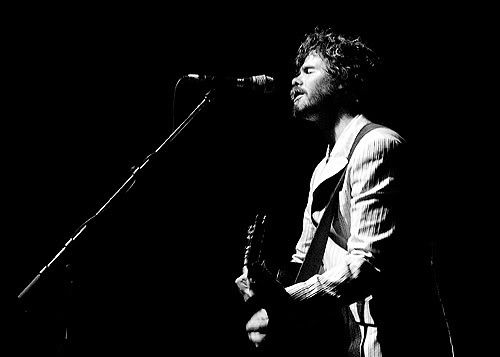 Last night Kerry and I saw one of our favourite performers, Idaho singer-songwriter Josh Ritter, on tour and promoting his stellar 2006 album

The Animal Years

. We first got a glimpse of him opening for Sarah Harmer for a show at Pantages in October 2005, and bought into his craft and style immediately. I brought my camera to the West End Cultural Centre; I've been harbouring a wish to get a smaller camera to accent my Rebel for months, to use for stuff like this, but since it's winter I figured I'd tuck the big thing under my coat. It was dark and I tried about 20-30 shots, of which I think three worked out (they're over on Flickr). It was a great show. He's a strong singer and a sublimely skilled writer, and equally fine and with the banter. I missed his band, but he's a captivating presence on his own and seemed genuinely enthused with the city – mentioning his newfound crush on Manitoba curling champ Jennifer Jones – and talked of bringing his whole crew another time. Next up for us is a show with local alt-hipsters Nathan, a CD release of their new album

Key Principles

.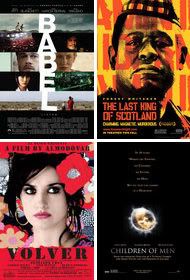 My sister mentioned to me that she was looking here for movie recommendations, which I used to do at one time. Since the fall we've seen our fair share of good stuff, including more than a few Oscar hopefuls. For me,

The Departed, Volver, Babel, Children Of Men

and

The Last King Of Scotland

come first to mind, though they're all in their own way tough to watch and need a specific (re: serious) mood to appreciate.

The Pursuit Of Happyness

was what I'd call quality feelgood fluff (toss

Little Miss Sunshine

in that catagory also). I'd recommend wintertime successes like

Borat

and

Casino Royale

, which filled their roles admirably as exqusitely squeam-inducing and revved-up, smart action fare, respectively.

Who Killed The Electric Car

and

The U.S. vs John Lennon

were decent, though biased, documentaries. And

The Queen

was solid, though I felt I needed to be a few more decades older to really feel that one (it's slow-moving, but Helen Mirren is fabbo). We saw one dud that we could agree on, that being

The Good Shepherd

. Steer clear.