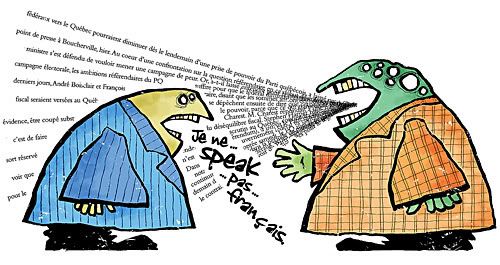 I like to think I can understand french, living as I do in an officially bilingual nation. Truth is, I don't. But I also do – somewhat. Working for many years at a national non-profit conservation organization, my knowledge of our second language is limited primarily to the words of the trade: I know my ducks in french (ruddy duck, my fave =
érismature rousse
). I know a volunteer is a

bénévole

. And a few other things. So for Illustration Friday's current theme of

communication

, I present this. Dropped into an actual confrontation with a francophone, it's fair to say I would be equally inept at conversation as this poor guy.

Incidentally, please do not misconstrue that I believe all french-speaking folk to be six-eyed – I was merely trying to better highlight how lost the chap on the left actually is. Click here for a closer, more detailed look at the finished product (then click on the magnifying glass icon).