Christmas is viewed as a season unto itself, and that is no more true it seems than for us this winter. Kerry and I will be engaged – moreso – in all manner of familial comings and goings from now, straight into January. So, to wind up

Jeopopolis

for 2007 – its smash, best-selling, awesomenatious third fantastic year – I present our Christmas tree in all its glory. This winter we opted for a locally-grown red pine that had to be hewn at the lot just to fit on top of our poor, laden Civic – and also under our ceiling. I think this may just be the largest tree I've had in all my Christmases. But it commands the hell out of the room, and smells delicious. A better look at this shot can be had here, o'er on Flickr.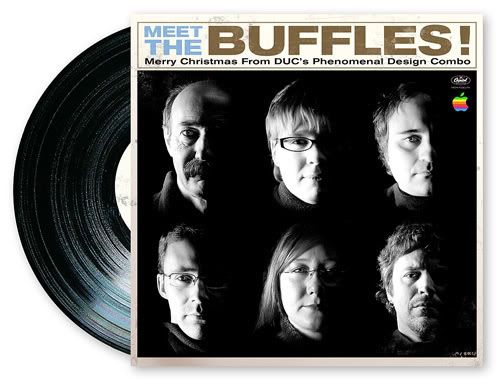 And, in the spirit of the season, the Mac-heads at work sat for a quick, pot-light photo shoot so I could create the design department's third annual e-card to the company. "Buffles" is short for buffleheads – quick, small diving ducks that make their home near many a northern Canadian lake (and also known as butterballs in hunting circles).