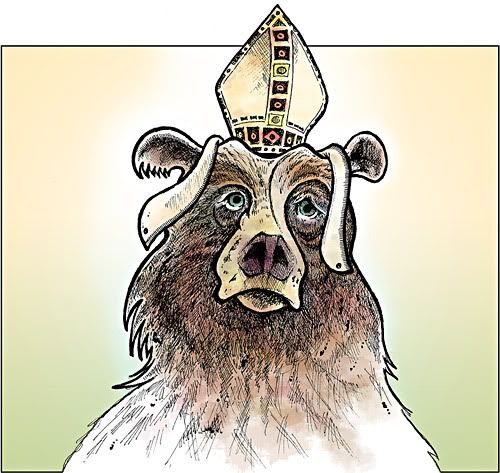 I'm foregoing the task of just meeting Illustration Friday's weekly challenge and tripling the effort to include merits that meet the

Sugar Frosted Goodness

current theme of

hats

, IF's own theme of

tales and legends

... and a hilarious Flickr drawing group dedicated to – of all things – bears in ill-fitting hats. This troika developed into what you see here, and while the sketch's suitability for Flickr and

SFG

is clear, for Illustration Friday it's perhaps less so. But there is a certain leniancy to IF's theme this week that allows for some interpretation, so read on.
So how does a grizzly bear come across a papal hat? The answer to that might not be black-and-white, but this concept is loosely based on a legend widely used in the realm of sarcasm – that of the Pope s**tting in the woods. The Urban Dictionary defines "does the Pope s**t in the woods?" as follows: a sarcastic answer to a question with an obvious answer of "yes", or "duh", taken as a combination of the similarly-intended "does a bear s**t in the woods?" and "is the Pope Catholic?" – also phrased in the form of "is a bear Catholic?"

As such, my grizzly bear is clearly Catholic.
This bear was based from a photograph searched for on Flickr, a great source of reference material (the hat itself I found in Google image search). Most of this piece was sketched with my thinnest pen, a Pigma Micron 005, using thicker nibs to hash out any edges. Selective colouring was intentional here; I was aiming for a piece much more sketchy than normal, and didn't want the use of colour to overpower the time I spent with my sketchbook and pens (click here for a larger view of the sketch-work).