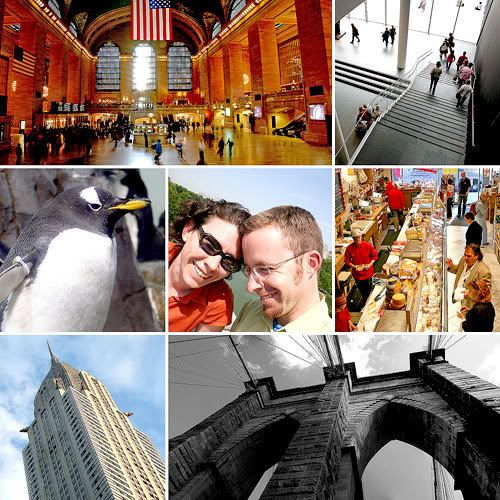 Top row

(left to right)

: sundown at Grand Central Station; aesthetics is king at the MoMA.

Middle row

(left to right)

: gentoo penguin at the Central Park Zoo; goofs in Central Park; Murray's Cheese in Greenwich Village.

Bottom row

(left to right)

: my favouritest skyscraper in the world, the Chrysler Building; a view of the Brooklyn Bridge.

Kerry and I finally made good on our promise to do New York last week. Our visit to the city made famous by

Crocodile Dundee

,

Hercules In New York

and the 1976 remake of

King Kong

was a packed and thrilling experience. And so I give you, in typical Letterman fashion (where rank means nothing), my Top 10 of our week spent in New York City:

I live for the view of things, so the opportunity to glimpse Manhattan from the peak of Rockefeller Center was a high moment (nyuk nyuk). We avoided the crowded observation deck at the Empire State Building – and in hindsight, our view offered one key glimpse it didn't anyway: the Empire State Building.

And lo, on the sixth day of our vacation, there was
Fleet Week
. We didn't witness the full-on revelry of New York City mixed with thousands of sailors on leave, but it was still pretty cool and old-timey to see them in full regalia, mixed in with the crowds on Wednesday night as we showed up at Times Square for our final minutes on holiday.
Chelsea was where we called home for more than half our time spent in New York, spending two nights at the Chelsea International Hostel and a final, sleepy night at the
Chelsea Hotel
to satiate Kerry's Leonard Cohen fix (and where the neon marquée shone "Chelsea Ho" – until the night I decided to photograph it). I loved this area, just a touch slower and calmer than the rest. It was here we had a quiet bench breakfast outside
Café Grumpy
, burritos the size of your head at Salsa Y Salsa and also where I saw my first New York transvestite.
In either of Kerry's two previous visits to New York, she had never walked the Brooklyn Bridge. So we stuffed this, our only sojourn off the island, into our somewhat-loose schedule on a gorgeous Monday afternoon. Our brief apple break at Empire State Park (curiously, we ate quite a few apples during our trip), and the view it provided, were quiet highlights.
The single largest gobbler of our time was spent walking the streets, either aimlessly – as it was on Friday and Wednesday nights, saying hello and goodbye, respectively, to the city – or with purpose as we headed to one destination or another. It was during these moments that we established our bearings, slowly learned the subtler points of jaywalking and crowd avoidance, and witnessed all manner of things I had only heard about. Examples: rim-bedecked Escalades really do exist, New Yorkers really do curse a blue streak, and the NYPD really does patrol on segways. Whether trotting along Fifth or Park, meandering through the Village or
strolling along 8th Avenue
, we more than got our fill of daily life.
We were not check-listing tourists. We did not hop on or off the bright red buses circling about. Didn't take in a Broadway show or step on the Staten Island Ferry. Didn't visit the Statue of Liberty, Ellis Island, the Empire State Building, the Met or the American Museum of Natural History. But that wasn't to say we didn't have a tasty fill of culture, taking in the refurbished Museum of Modern Art with Philly phriends
Melissa
and Rob on Sunday, and the currently-refurbishing Guggenheim on Wednesday (after a tiny sidestep to the
Museum of American Illustration
down the way).

It was my co-worker who introduced us to the prospect of a walking food tour, which she partook in on her own visit in the winter. We decided to do likewise, signing up for the Monday Greenwich Village food tour. It was a scene, a three-hour saunter through the neighbourhood's cuter streets and establishments such as Rocco's Bakery, Bleecker Street Pizza, Murray's Cheese and the Cornelia Street Café (which we returned to Wednesday night for a wine-included, six-dollar poetry reading). Pizza, cannoli, chocolates, cheese, more sweets, more pizza, this, that and the other –
supoib
.
My fledgling trip to New York (and Kerry's third visit) was made so much the sweeter with the input, guidance and experience of a select few folks we hooked up with during the week. Despite the city's best efforts to make us feel back home in Winnipeg with cool, drizzly weather, Melissa and Rob showed us the finer points of Manhattan, taking us on a straight-line tour of the island's gut from midtown to Soho. Toss in a one-block dash of Saturday Chinatown madness, Mel's promise redeemed of a store that sells insect lollipops and taxidermized chipmunks ($250!), mice and kittens, and an escape-from-the-rain panini lunch at Caffe Reggio – and well, a good time on your hands is what you have right there.
Kerry's cousin Sibyl, and husband Paul, in Greenwich Village also played a key role in allowing us to feel right at home as New Yorkers, graciously accepting us into their place for three nights and treating us to a barbecue, two crazy cats, a viewing of the third-last episode of

The Sopranos

(in New York, how cool is that?) and a valuable-beyond-words home base for our visit to the city's more bohemian quarters.

I have to get this out. When we decided to visit New York, the first thing that sprang into my head was seeing a penguin. And not just any penguins, but the
purportedly-gay
chinstrap penguins at the Central Park Zoo made famous in Canuck comedienne Samantha Bee's report on
The Daily Show
(referring to them, amazingly straight-faced, as "strap-ons"). These birds did not disappoint me in amusing, and I don't mean that in a gay sense – not that there's anything wrong with that.
And neither did the park in general, where we spent portions of three days over our time in the city. Central Park quite possibly serves as the premier example of foresight in urban planning, a place where nearly all city noise is muffled and our days slowed down. We lolled Sunday afternoon away in Sheep Meadow watching the city's inhabitants crawl out after a cold and rainy weekend, spent Tuesday on rental bikes and at the Zoo and cut through on Wednesday, stopping at Belvedere Castle and Strawberry Fields.

To step into the cavernous and venerable Radio City Music Hall was a trip in itself. But to have the stage occupied by
Damien Rice
, playing in support of a new album to a 6,000-strong, four-balcony sold out venue only cinches Monday night as my highlight of our time spent in Manhattan. From aching piano ballads like "Accidental Babies" and the angry opener "9 Crimes" to raucous and all-out full-band numbers like "Me, My Yoke and I", Rice's show was heart-stopping, and an exercise in tempo, rolling through a peppy "Coconut Skins" (turning into a kickass jam session), a mic-less and crowd-shushing "Cannonball" and the rollicking crescendo of "I Remember".
That show, midway through our trip, was accented nicely by two other live entertainment experiences. One was a taping of

The Daily Show With Jon Stewart

on Tuesday (the guest was U.S. Secretary of Education Margaret Spellings, but a green-screened 'live' remote by Aasif Mandvi and a report from Dan Bakkedahl kept things nicely humming). The other show, a hilariously blue stand-up performance at MSG's theatre from frumpy Brit Ricky Gervais, was equally fine. A surprise introduction by David Bowie, singing "The Little Fat Man (With The Pug-Nosed Face)" from Gervais' show

Extras

, provided our only unexpected celebrity sighting.



Oh yeah:

I have a few hundred pictures to sort through, and the best-est ones will be on display at my Flickr site over the days to come. I'll be sure to post a link to the photo-set when it's ready to go, but in the meantime keep your eyes on the fancy Flickr widget at top left for anything recently added.