Kerry surprised me last fall by booking me for a late-season flight over the
city in a hot air balloon. But my birthday being when it is, the reserved
date didn't pan out because of poor weather ­ – then the ballooning season
promptly ended for the year. So after a long, balloonless winter on the
ground and in the snow, the trip finally came to fruition this past weekend
­ under sunny morning skies and ideal conditions.
Launching from Whittier Park, across the Red River from downtown, the
excursion took myself and five other passengers in a northwest direction,
arching around the north side of downtown office towers and the Exchange
District, then following Notre Dame Avenue to Red River College (my alma
mater), the airport and over a patchwork of fields within the Perimeter
Highway. And though I'd been told the rides are eerily quiet (with exception
of occasional hair-scorching blasts from the propane tanks), the early
Saturday morning flight took silence to new levels as most people were still
asleep in their beds as we ventured out. Thoroughfares were largely empty,
and with winds low the clearest noises were amazingly from birds ­ – gulls,
blackbirds, robins and meadowlarks leading the charge.
Highlights included the launch itself, rising from a grass lot surrounded by
trees to see the skyline beyond, as well as demonstrations of the pilot's
skill as he skipped our basket along the airport's main runway during a
moment of arrival/departure downtime ("it's not every airport that allows us
to do this", he mentioned), and a rapid ascent that followed in order to
hold a position directly over a landing jet plane. Our

haute-rageously
french pilot Serge had a deft hand at maneuvering such a seemingly
uncontrollable craft, guiding our group to a "passive landing" on a gravel
service road (the alternative on windier days, I learned, can involve
skidding for several metres at a 45-degree angle).

A small collection of 20-odd photos from the morning can be seen here, including closer views of ones featured in the grid below, and a much better look at the seven-photo stitched panorama above.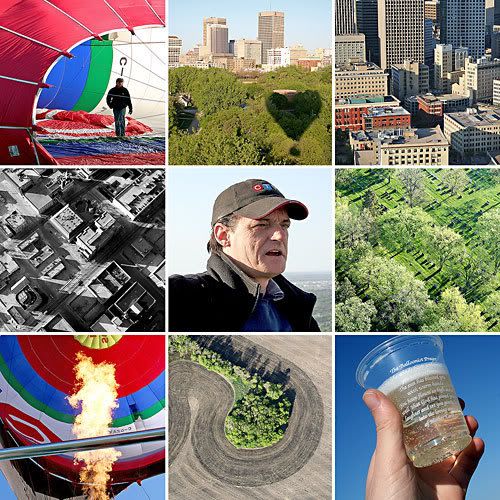 Top row

(left to right)

: Serge checks out the interior as the balloon inflates; our shadow as we rise out of Whittier Park; a jumble of buildings in Winnipeg's downtown.

Middle row

(left to right)

: abstract streetscape of the Exchange District; Serge (

quel pilote!

); tree canopy abstract of Brookside Cemetery.

Bottom row

(left to right)

: lifeblood; farm field abstract; a post-ballooning champagne toast.