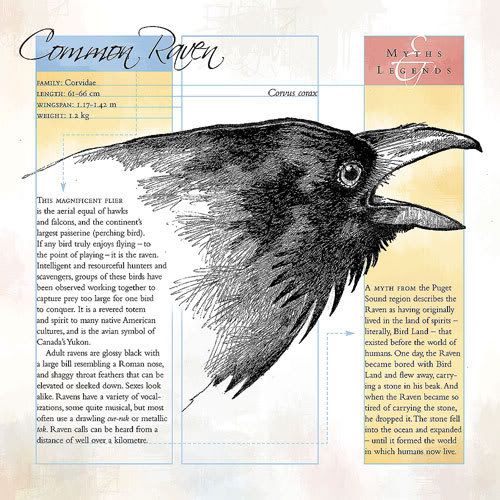 After a long breather, the ageless

HOWieZine

project rolled back into gear, heralded by the arrival of the latest issue – themed

myths and legends

– to my desk at work last week. I submitted a page for the book (which I discovered in the end to be a wonderful box design containing each entrant's work loose inside) early in the new year that featured a bit of design, illustration and photography.

My first page

(above)

featured the raven sketch I modified and passed on to Illustration Friday for their recent theme of polar, which I actually drew in advance of the zine's deadline around Christmas and on a winter vacation in Cuba. Here, the raven is surrounded by a field-guide description and a short mythological tale of the bird from the Pacific Northwest. The strong presence of the raven among New World folklore was a primary influence on this page, but moreso the theme gave me a chance to do what I love most if I'm drawing: sketching birds in pen.



One of those you-have-to-see-it-to-believe-it moments was the inspiration for my second page

(above)

. Last fall Kerry and I ducked over to a neighbourhood coffee shop, where through the window I noticed this television-headed man with a handycam-toting friend, preparing to shoot a scene for a film assignment (my guess anyways – and for their sake I hope it's true). Living a half-block away, I discarded any pretensions and basically told them to wait while I ran home and nabbed my camera. So while my first zine page covers the territory of myth, my snapshot of this dude stands in for legend – and my interpretation of a legend in his own mind. My Flickr link for the original shot acheived the understandable

what the?

response, and also offers access to a better-quality look.