There is definitely something both so intensely personal and public about marriage – for us, a heavy lean toward the former, despite the above image – that I will spare most details here. Married in front of the bay window on New Years Eve in the living room of our house – the Christmas tree cast to the front yard for outdoor welcoming duties – Kerry and I succeeded in forging an event as private, meaningful and in-the-family as possible (her father's application for wedding commissioner status chief among the feats that made this a reality). Our families braved the holiday travel season; snowstorms, winter highways, Ontario airports and all. I eked and managed handwritten vows etched in my pocket sketchbook; Kerry's, in turn, were appropriately of published-author caliber. A lemon-poppyseed cake from the neighbourhood bakery satisfied. Champagne popped and flowed, post-ceremony and again at the stroke of midnight. My first suit-and-tie had Kerry commenting often that I cleaned up nice. Friends braved the elements and our creaking 1912 house supported them all.

I twist the ring around on my finger from time to time – out of astonishment, not discomfort. I suspect in time it will blend, become another body part. But for now I can smile, feeling it under my deep-winter mittens against the pressure of a shovel or hockey stick.

We had no hired-gun event photographer, and images will turn up at our door over the days and weeks to come. But cameras were everywhere, and the best shots will appear on my Flickr account as they arrive.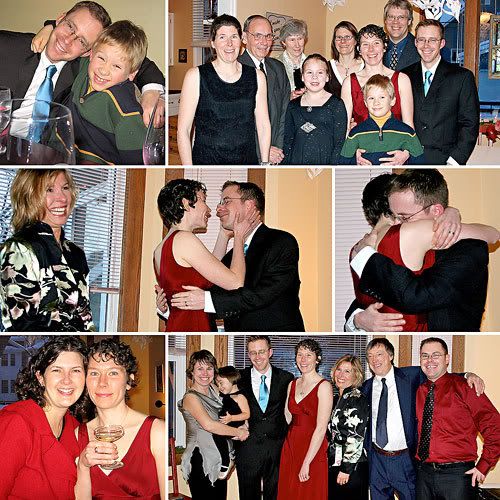 Top row

(left to right)

: Duncan welcomes me to the clan; my new family – moreso.

Middle row

(left to right)

: the moment after; and the moment after that.

Bottom row

(left to right)

: Kerry and Christen; and with my family.