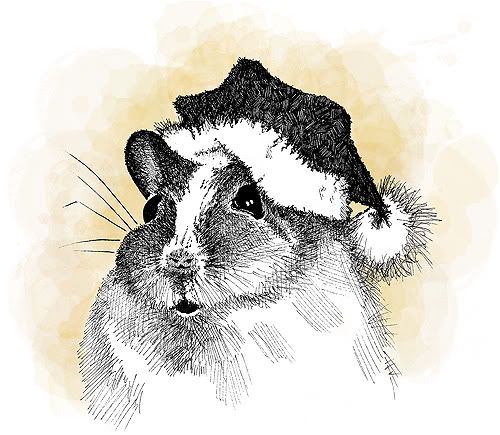 Illustration Friday's pre-Christmas theme is

voices

. And for a few short years during my childhood, the voice of Santa Claus on Christmas Eve must have sounded an awful lot like the nocturnal squeaks of my pet gerbil.
My memory is hazy when it comes to so many key childhood moments. I dislike myself about that. One notable – and timely – example is the circumstances surrounding the suspension of my belief in Santa Claus. I don't remember the secret being spoiled in the schoolyard, by TV or my bigger siblings. But I was usually one to quickly deduce things – even minutiae like how similar Santa's handwriting was to my mom's. But pre-dating this discovery, my brother and I owned a pair of gerbils – Friend (his) and Nibbles (mine, making for an awesome what's-your-pornstar-name:

Nibbles Kingswood

). And as those formative Christmases rolled by, fewer presents arrived in my stocking or under the tree from Santa – and more began arriving from Nibbles. Then following Friend's and Nibbles' brief gerbilian lifespans, Christmas gifts then became the exclusive responsibility of my family.
And that was pretty much that. A nice, smooth transition, no questions asked.
So in honour of my childhood proxy Santa – Nibbles the gerbil – I sat down and attempted my first real attempt at sketching her, something I never did as a kid when Nibbles was alive and chewing happily through our discarded toilet paper rolls.
You can click here to see a closer look at the pen detail.