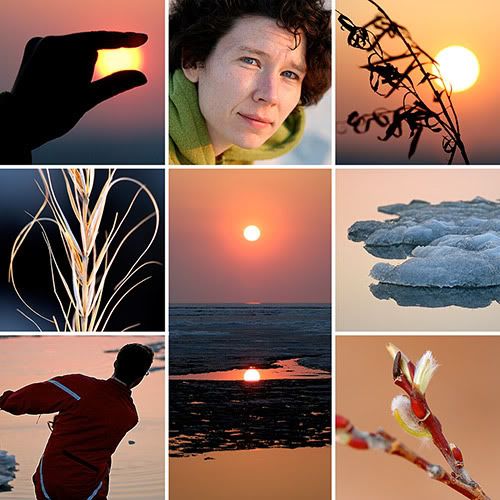 Top row
(left to right)
: Kerry pinches the sun; the pincher herself in fading light; curls of beach grass.
Middle row
(left to right)
: um, more curls of beach grass; the sun reflected in a rare patch of open water; ice floe.
Bottom row
(left to right)
: I kick butt at skipping stones; debut of willow buds.

In one of those why-didn't-we-think-of-this-before moments, Kerry and I headed for the beach after a particularly hard day at work on Monday. She came from the city, picked me up and we drove to Grand Beach for a between-the-dunes dinner of chicken sandwiches, veggies-and-dip, cookies and local brews. The beach is a signature Manitoba place-to-be during the heights of summer – a destination for thousands upon thousands on a good hot Saturday – but a warm spring Monday along a still entirely-frozen Lake Winnipeg is not quite the draw. And that's just the way we like it.