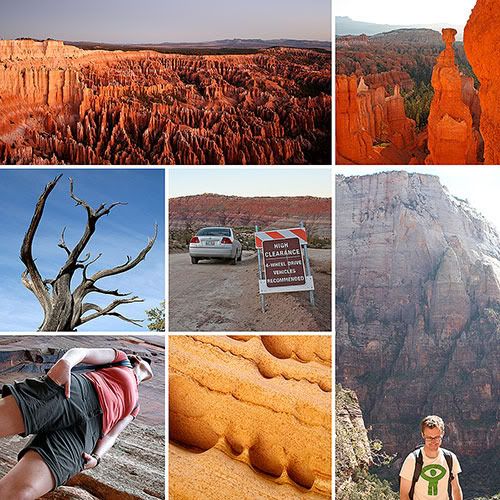 Top row

(left to right)

: Bryce Canyon at sunrise; the colours!

Middle row

(left to right)

: juniper antlers; our car shall not pass; dwarfed in Zion.

Bottom row

(left to right)

: look up, look way up; the rocks are melting.
-----

The drive from Old Faithful to Bryce Canyon, Utah, was longer than I anticipated – near-empty interstates and 80mph speed limits notwithstanding. But the day was encouraging in that we ably ditched the snow of Yellowstone for the sun of the desert in a matter of hours. Regression back to summer kicks an early winter's ass every time.
Warmer weather in tow, we could finally ditch the car and set out on foot – which we did at Bryce, totaling over 2o kilometres of ups and downs in the
candyland spires
of this fantastic place. The park is comparatively compact, and with one solid day we got a good fill of what the place is about. Starting out at daybreak on the less-traveled
Fairyland Loop
trail, we walked and gawked at this
trippy otherworld
. My memory card filled fast with amazing hues of red, yellow and white. Nearer midday we connected with some of the park's more popular routes for those willing to navigate the switchbacks into the canyon floor, made our way out of the park's namesake "
ampitheater
" through the cavernous formations of
Wall Street
, and finished with an exhausting return to the car via the Rim Trail from one end to the other. The place never ceased to amaze; some of its geography was near laughter-inducing. And in our combined stupour we both received fine October sunburns.
Bryce is for lovers of good lighting. The next day allowed us time to slowly make our way to nearby Zion National Park and Kanab, our ensuing place to crash for the night – and I used this opportunity to leave pre-dawn to catch one of Bryce's
famous sunrises
while Kerry slept. It did not disappoint; I camped out in a good spot with other photographers on the same pilgrimage and watched the show.
We would experience Zion in a similar vein (sans vehicle), but a random day of shunts and spurs was laid out in between. The nearby rehabilitated ghost town of
Grafton
made a fine turnaround point – we checked out its rickety remains and
desert cemetery
before making a bee-line to Kanab, and failed attempts to locate two other nearby ghost towns before nightfall. Kerry wrote about
one such attempt
, to find the town of Paria, that I hope to show in the future. She's a great storyteller.
Zion and Bryce are two hours apart, yet on altogether different planets. Where Bryce displays delicacy and curiousity, Zion imparts
sheer blunt force
. It's the immovable object, with
vistas and grandeur
to rival any mountain range. Playing one-day tourists, we hopped the park's shuttle service and made an attempt on its most famous hiking excursion, the Angel's Landing trail, a precipitous series of
switchbacks
and chain-aided clifftop scrambles. But so did every man and his dog (or kids), and midway we opted instead for a palette of lesser-known – and just as thrilling – hikes into hanging valleys, porous, dripping cliff faces and crevasse-like dry canyons.
That night, and the night previous, we stayed in the area hub of Kanab – home of two highly-recommended establishments: the
Rocking V Cafe
and the wonderfully-eclectic
Bob-Bon Motel
. I won't do this often, but both of these places were very, very cool.