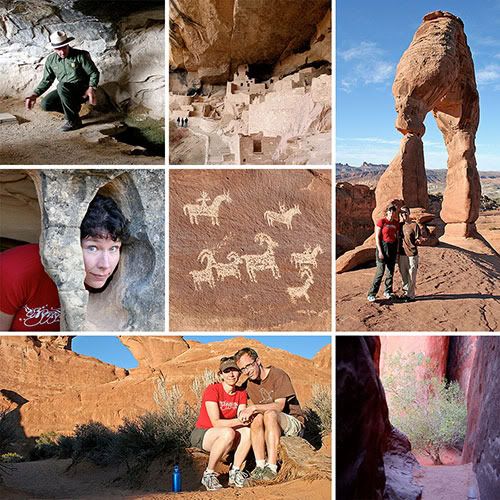 Top row
(left to right)
: Ranger Dan shows us the Mesa Verde ropes; Cliff Palace; early morning and Delicate Arch.
Middle row
(left to right)
: Kerry, in Mother Nature's stockade; petroglyphs!
Bottom row
: one last sit-down before the long trip home.
-----


Colorado's Mesa Verde National Park and Utah's famous Arches National Park provided fodder for the remainder of our time, before finally putting our heads and the pedal down for the non-anticipated and arduous trek home. Both locations offered incredible sights and distractions from the looming two-day Interstate marathon.

Mesa Verde was plenty scenic, a towering plateau of rock rising from desert and scrubland. The location is more well-known for its historic content, housing countless restored and untouched Puebloan cliff dwellings and villages. We signed up for guided tours of two such ruins, learning our brains and navigating the jungle-gym network of trails, ladders, ledges and tunnels – then saved time for a solo jaunt on an entertaining trail that led to a wall of petroglyphs. Come late afternoon we took off for the thrill-seeker haven of Moab, Utah, and the base for our final day spent hiking and exploring in Arches.

Arches is the ultimate cartoon landscape, and immensely popular, even on a weekday in the middle of October. We arrived early and beat the tourist onslaught to Delicate Arch, quite possibly one of the most recognizable and photographed pieces of work Nature has cobbled on the continent. But the majority of this final day was spent tackling possibly our most grueling hike in the Devil's Garden, traversing sand, inclines and slippery-smooth swaths of slick-rock, which earned Kerry – and I still chuckle – likely the only booter for hundreds of bone-dry miles. We saved just enough time to witness the sunset, sinking the park's west facades into hues of deep red, coming to a close in the cathedral of Double Arch. Bloody awesome.

I'll tinker with my scads of photos for days and months probably, but a good, solid set of photos is now up and running. Click here for the set, or here for the whiz-bang slideshow treatment.