The following is a ragtag collection of recent photographs I've taken...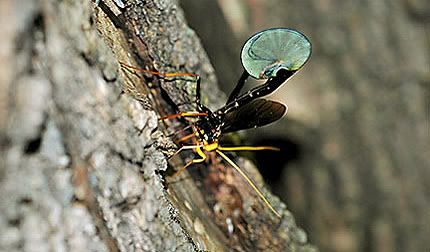 I got to borrow a kickass digital camera to shoot the photo I'm using in the next
HOWieZine
, complete with macro lens attachment. I snapped a few pictures of this

amazing wasp

on a dead tree trunk. Note the bizarre green fan coming out of its back end. Supercool.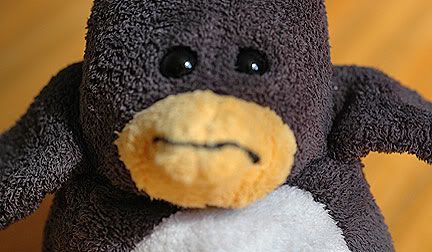 Pingu

, the penguin that hangs out on top of our headboard. Also my current desktop image. Again, it was hard to master the macro lens – I missed focusing on the eyes by a fraction of an inch.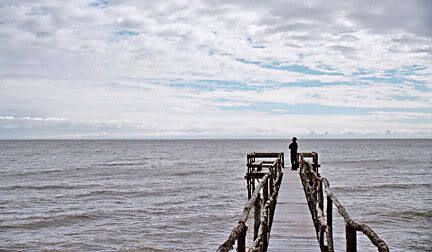 Kerry on the swimmer's pier

at Whytewold. Her parents' cabin is located here, on the western side of Lake Winnipeg. Piers like this are erected each spring to help swimmers avoid the rocks and gooey clay under the shallower water. A couple of weeks later the pier disappeared in a storm.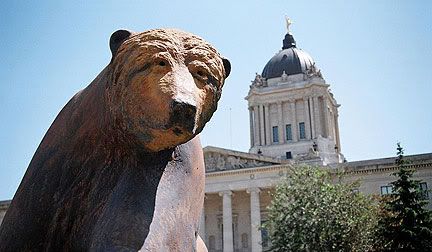 Winnipeg has joined cities like Calgary, Toronto and Chicago by erecting a series of temporary animal-themed concrete structures in order to increase tourism and overall kitsch. Cancer Care Manitoba's

Bears On Broadway

campaign has created an unexpectedly high amount of interest from locals. This grizzly is one of the some sixty-odd bears that adorn one of the city's main downtown drags until October. In the background is the Manitoba Legislative building.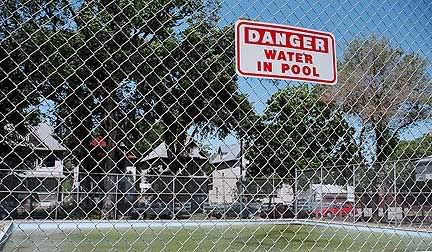 And from the no-sh*t school of signmaking, the City Of Winnipeg brings you

this little nugget

, posted on a chain-link fence surrounding a public wading pool. I thought it was hella funny.