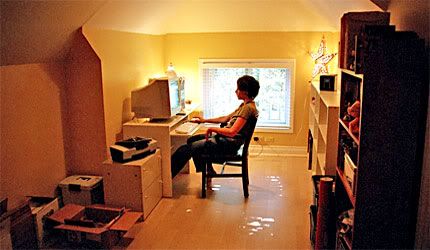 Sitting here, typing this entry in the attic of my new house, is a much sweeter experience than I ever could have imagined. It's almost sunset. Light is pouring in. The window is open, the street is quiet and I'm listening to Jack Johnson. Kerry and I have been here for 11 nights and ten days, in one form or another (more on that in a sec). It's very nice.
On July 7, our date of possession, the apartment was a mess. Boxes and packed items everywhere. While I was commuting home from work, Kerry and her friend carted over the futon mattress, some sheets, a clock and a roll of toilet paper. But by the time I was home, it was time to truck out for the first evening of the Winnipeg Folk Festival (priorities!) – an annual July rite for Kerry and myself. The house had to wait a few more hours.
We made the decision to "camp out" in the house for the weekend because of our just-moved-in neighbours in the upstairs apartment (single mom plus five, count 'em,

five

kids). Moving Day was still four days away, but four days of the little terrors running around on top of us was a predicament we wanted no part of.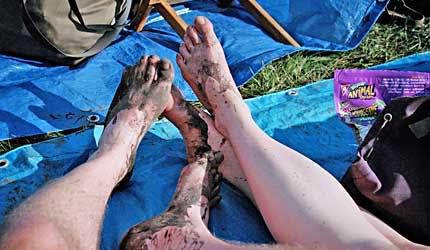 Camping was fun. During the first night, a thunderstorm roared through. A big, empty house suddenly seemed incredibly intimidating. And the Festival turned into a soup.
On Friday July 8, Kerry and I began moving over everything our skinny arms could handle: boxes, suitcases, plug-in-ables, more boxes. That afternoon and evening it was back to the Festival. Repeat for Saturday and Sunday, which was followed by a second frightening storm. Winnipeg is in the midst of one of its all-time wettest summers, so the trickle of water in the unfinished basement that follows these storms has been more of a relief than a concern.
The official move came and went quickly over the course of Monday morning. In the afternoon, I rebuilt the IKEA Ottenby bed frame, plopped the mattress down, put on sheets and pillows – and suddenly felt a whole lot better...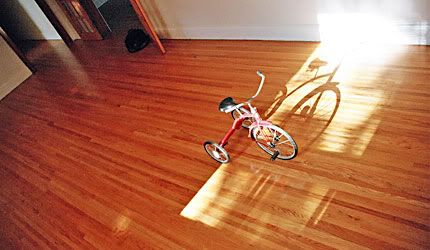 Until Tuesday, spending eight hours scrubbing down the empty apartment. I had just about every chemical known to man waft up my nose by the end of that torture. It

sucked

. But when I finished, and came home –

home

– to see our new appliances had all arrived and were in working order, the dizziness faded.
Since then, it's been a process of settling in. Putting everything in its right place. Buying things we needed: lawnmower, dishwasher soap, bronze garden hippopotamus (Canadian Tire, $14.99). Hanging pictures. Filling the fridge. Doing laundry outside of our previously allotted times. Not scrounging for quarters to do said laundry. Parking the car in our own spot. Seeing how morning and evening light fills each room and thinking it's the most beautiful thing. It's very nice.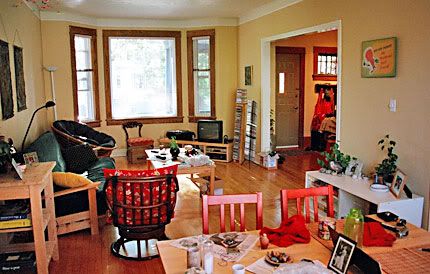 Two nights ago a third thunderstorm hit Winnipeg, the most vicious in years. Wind, drenching rain, ceaseless lightning, bed-shaking thunder. Kerry slept soundly, but I was awake the entire time, near terrified of a storm for the first time since I was a little kid. I was scared for the house, as tree limbs split and dropped. In the morning I gingerly inspected the basement. The same tiny trickle of water was there, finding the floor drain.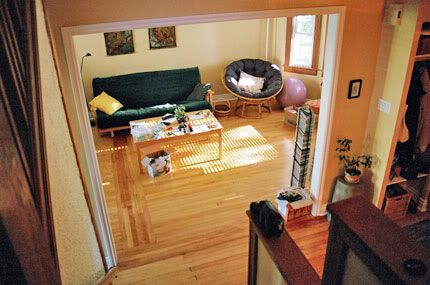 Photos

(top to bottom)

: Kerry in the single-room attic, made into an office/book nook; our filthy feet and Animal Crackers, Winnipeg Folk Festival; Kerry's antique Sunshine tricycle, the last thing left at the apartment; main floor view, dining/living room looking west; living room viewed from the landing.