I rue the day I started taking panoramic photos. It seems now that I just can't stop.
One of my favourite things to do, photography-wise, is create panoramas. It started a few years ago when vacation pics I took in Nova Scotia just didn't seem to capture the size and scope of some of the places I visited. But when I stitched a few consecutive pictures together, the effect was much improved.
On the flipside, this tactic has really upped the number of film rolls I run off at any given time. Each panorama is usually constructed from anywhere between three and ten single photos, depending on the span of the subject. From there it's a seemingly endless process of colour matching and rubber-stamp work in Photoshop.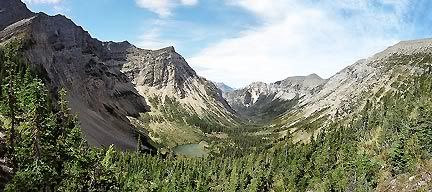 These panoramas were taken on two of the better days from my vacation. At top is the amazing view from the Bear's Hump
(click here for a closer look)
, constructed from a series of eight separate photos. This image best shows Waterton Lakes National Park's tight transition between prairie and mountains, as well as the townsite and the park's namesake string of lakes. Above is the five-photograph, west-facing view of Crypt Valley (click here for a closer look), and below is an east-facing view along Lower Waterton Lake with some cool directional clouds (made from six photos, click here for a closer look).