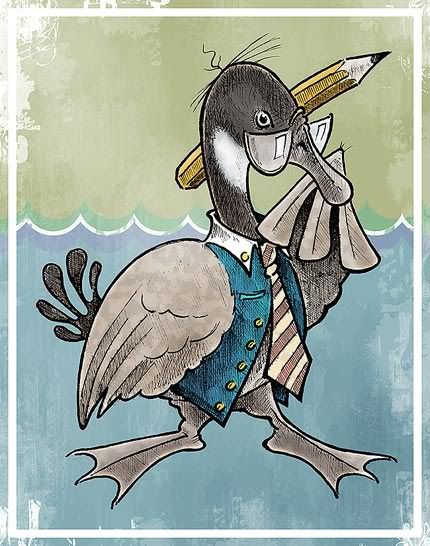 This may well be one of the weakest links to the theme of this week's
Illustration Friday
, but if the shoe – or in this case, the drawing – fits, then well...post it. And just what is "fits" anyway, in these topsy-turvy modern times?
I recently wrapped up this illustration as a favour to an online friend who has a brilliant idea knocking around inside his skull for a potential children's book. For anonymity's sake, I'll refer to him/her here only as
Mister/Miss Ravens McOrioles
– as I don't want to let the goose out of the bag before he's/she's even put pen to paper. But because the subject matter was up my alley, I offered to help flesh out a bit of imagery for the story which involves a goose and a wallaby.
Side note:
I've never drawn a wallaby in my life, so

Mister/Miss Ravens McOrioles

, we're on equal footing with that fella!
The goose however, I know and know well. I was given details about the goose character in McOrioles' story idea.
Goose X
(not his real name) was to be an eccentric fellow, well-dressed, prone to bouts of daffiness, imagination and ideas that sometimes sink and sometimes float (hence the background scheme and loose relation to Illustration Friday's theme). I decided to give him an elderly, forgetful-professor vibe to boot; kind of a fuddy-duddy.
I loosely sketched a whole manner of geese that for one reason or another didn't turn out. This fella was eventually done up in pencil last weekend, detailed in pen and coloured in Photoshop.
Click
here
for a closer look. Do it.