The fourth edition of the

HOWieZine

has been released to the extremely limited masses, so it's safe to post my submission without any protests of "spoiler!" from the dedicated designers who put time into crafting their own pages. This issue's theme was

naked

, a word that can conjure up an array of ideas, interpretations and imagery.
As with my first submission to the

HOWieZine

project, I collaborated with Kerry in putting my idea to paper.

The Cartographer

– a poem she wrote a few years ago – became my text to play with, a beautiful story that combined nicely with my own fascination with maps.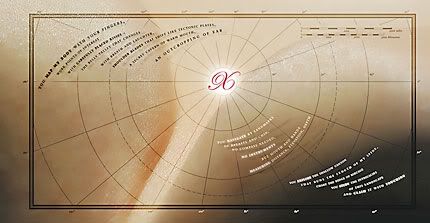 In order to accommodate the sneakily subjective photo I took (relax smut-watchdogs, they're only shoulder blades), I had to create a wider-than-normal page that eventually took on centerfold-type proportions (how apropos). The inside spread (above, click here for larger view) features Kerry's poem, split into three sections, rolling with the curves of the photo and the graticules of the map overlay. And the overlay itself is shown on the outside spread (below, click here for larger view), along with the title and lines of topography that match up with the interior photo. And of course, X always marks the spot.