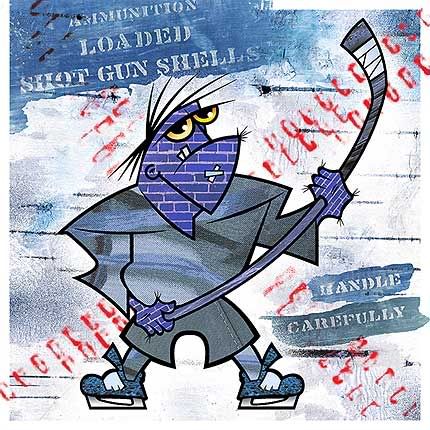 While I devote the remainder of my week's spare time to devising a cover concept for the fall

HOWieZine

(theme: lost and/or found), I submit this tinkered version of an old FreeHand jobbie for Illustration Friday (theme:

cold

). I originally doodled and vectorized this hockey goon a couple of years ago. But with the reinstated National Hockey League back in full tilt, I thought a subtle revamp of this thug was in order. It is the League's intent that talentless ape-men like this fellow will be left out in the cold as it ushers in a new-look, skill-heavy PR effort. So to that effect, this hombre is quite cold, perhaps soon to become as much history as the helmetless player and the intermission smoke break.
The background in this piece is constructed from a few different sources; a strip of birch bark, a photo of an old wooden ammunition crate from Kerry's parents' cottage, plus some added Photoshop brush pizzazz and some blue-heavy hue and saturation shifts. One can get a closer look if one clicks here.