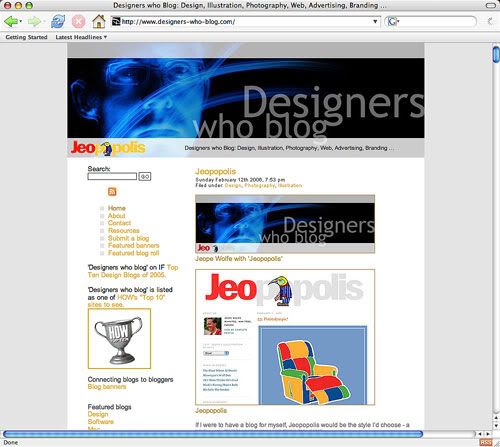 This past weekend I had the honour – and surprise – of being Sunday's feature site on Catherine Morley's Designers Who Blog, a giant online storehouse of, well, exactly that: blogs, be them personal or business-related, maintained by graphic designers (and other like-minded folk, such as Tuesday's bearded star and creative everything Ward Jenkins). Honour and surprise are two words to describe it best. This humble site was created late-late in 2004, solely as a means to beat a terrible creative funk I was enduring. The larger community that it helped introduce me to – that would be

you

guys – has been a continual and vital inspiration ever since. Otherwise this joint may have well been one of those things that peters out after awhile with indifference and the ever-present urge to just sit,

blah

and let the brain fester back to the state it was in when I started out.
Now what's on TV tonight?