The current theme over at PhotoFortnight (

night

) offered a chance to take my camera and a tripod into the basement and take this series of pictures, which came out much creepier than I ever could have imagined. While I quickly scanned through to pick one for a submission, I kept the moodier ones away from Kerry because it was bedtime – and these shouldn't be the last thing anyone sees in a day. But they did come out really, really cool.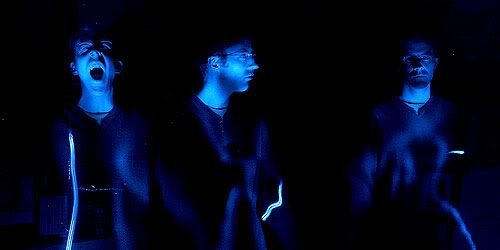 I tried my hand at spelling with the blue flashlight we got for Christmas (

top

, reversed to correct direction), and then did this one (

above

) where I stood in each position – about eight seconds each – and illuminated myself with the light. You can click here for a closer look.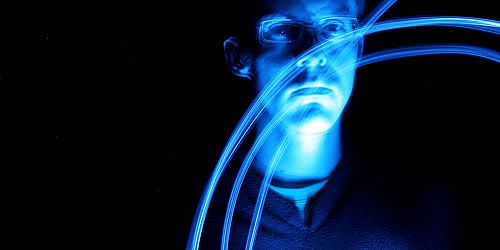 Here I'm just leaning against a support column and spinning the flashlight around. And trying to keep perfectly still.
This is the one I chose for PhotoFortnight. I'm leaning low against the same column and holding my flashing bicycle nightlight with my teeth. Click here for a closer look.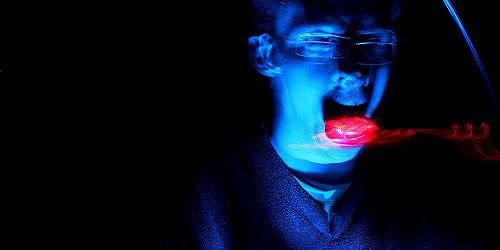 This one's pretty similar except I wasn't able to stand still, hence the double-vision effect (click here for a closer look). Like I said, creepy. But I'm really a nice guy ... just playing around in a dark, unfinished basement for a photo contest.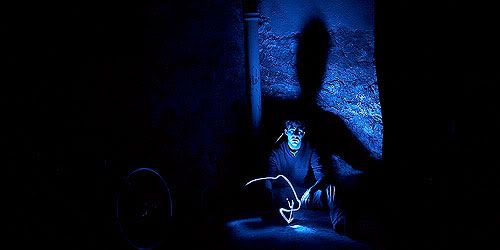 That's me in the corner; that's me in the spotlight. To the right is the furnace and to the left is my bicycle, which I miss using badly. Mebbe someday Kerry and I will have enough junk that we might start filling up the basement, but for now it's pretty much empty. Click here for a closer look.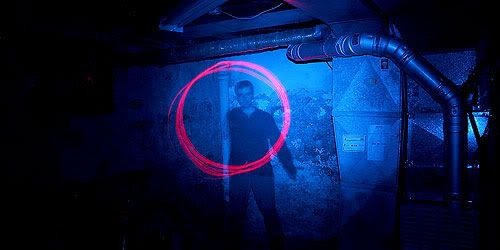 Here the flashlight's balancing on top of the camera and I'm spinning the red nightlight around in circles – kind of neat. It was around this time that the camera battery ran out. All in all I took about 30 pictures, mostly slight offshoots of the ones shown here – taking just over an hour. These are all 30-second exposures taken using the Canon Rebel's time-value mode, and only cropping and sharpening was needed afterwards.