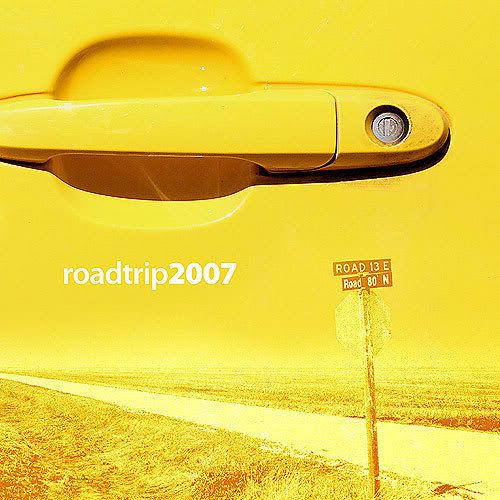 The making of a great compilation tape, like breaking up, is hard to do. You gotta kick off with a killer, to grab attention. Then you got to take it up a notch, but you don't wanna blow your wad, so then you got to cool it off a notch. There are a lot of rules.
– Rob (John Cusack),

High Fidelity
I remember this quote each time it comes to making my annual summer road trip CD. What began as a simple challenge between Kerry and I in 2004 has become a springtime ritual: a chance to string together a soundtrack for the all-too-brief season of weekend getaways.
But what road trip aficionados may find odd, is that only a few of the songs on the new disc touch on the ideas of travel, being on the road or even movement. But for me, content doesn't even matter ­ – it's all in the rhythm. What's more, these summer discs are never modeled for urban cruising. Instead, they're built for a very specific purpose: escape from the city. That's why this disc in particular was laid out as it is, starting off gruff and loud, eventually winding its way to a cruise-controlled series of softer, stress-free tracks (and the last one is bonus, kind of a just-when-you-thought-it-was-done sorta thing).
I've noticed already that my interest has faded in the CDs I made only a couple of years ago. Tastes change, and that's healthy. And because I was, and still am, a late bloomer to most music scenes, I should probably continue to expect this as I feel out new music as it now pours in ­ because as Jemina Pearl Abegg squeals in "Adventure": it's all cool kiddo, 'cuz we're like, adventurers.
The 2007 lineup
I'm Shipping Up To Boston -
Dropkick Murphys
,
The Warrior's Code
Manifest -
The Weakerthans
,
Reconstruction Site
*Adventure -
Be Your Own Pet
,
Adventure
Wolfgang -
Elliott Brood
,
Ambassador
American Pageant -
The Sadies
,
In Concert Vol. 1
Outsiders -
Franz Ferdinand
,
You Could Have It So Much Better
(Antichrist Television Blues) -
Arcade Fire
,
Neon Bible
When Company Comes -
The Feelies
,
The Good Earth
Cold Black Devil/14 Miles -
Jackie Greene
,
American Myth
Corona -
Calexico
,
Convict Pool
*Be Gentle With Me -
The Boy Least Likely To
,
The Best Party Ever
*Snakes In The Grass -
The Essex Green
,
Cannibal Sea
Monster Ballads -
Josh Ritter
,
The Animal Years
We All Lose One Another -
Jason Collett
,
Idols Of Exile
*When U Love Somebody -
Fruit Bats
,
Mouthfuls
Coconut Skins -
Damien Rice
,
9
Trans Am -
Nathan
,
Key Principles
*Baby I -
Amy Millan
,
Honey From The Tombs
*Born Secular -
Jenny Lewis with the Watson Twins
,
Rabbit Fur Coat
Sugar Baby Love -
The Rubettes
,
K-Tel's I Love Pop Music
* These tracks, either directly or indirectly, came to me courtesy of fellow Winnipegger Chris Pointon's awesome (but only occasionally updated)
Pop 77
podcast mixes.