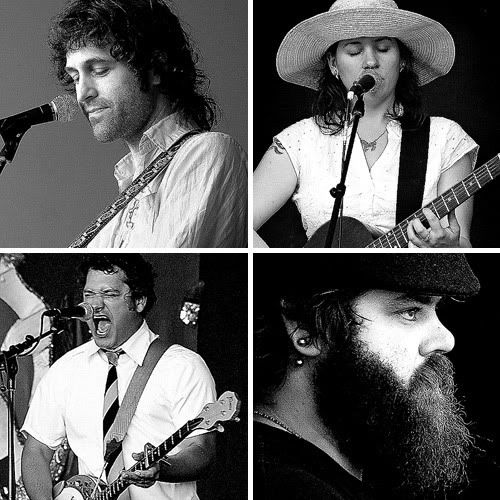 Clockwise from top left

: Jason Collett makes Kerry swoon; Amy Millan, a voice that melts butter; gruff-looking Millan bandmate; Mark Sasso of Elliott Brood gets primal on the banjo.
Last weekend I attended my 14th Winnipeg Folk Festival. My time spent on the festival grounds varies between the full four days or as little as one day, as was the case this year. My first festival took place a week or so after my high school graduation. I've experienced the festival campground as a teenager (and the booze that invariably comes with it), the mud-inducing downpours and standout performances ranging from Leslie Feist, Xavier Rudd, Neko Case and The Weakerthans to the Buena Vista Social Club, Billy Bragg and Sir Bob Geldof.

Of the 14 years, the 2007 lineup was the least familiar to me, but the performers I was keen on managed to all be on stage during the Saturday – so I focused on that (perhaps a poor decision; word has it Friday night kicked some butt). I brought my camera and zoom along this year to stay occupied capturing concert footage at the daytime stages, since the recent festival norm seems to be stifling hot days rendering me stir-crazy from heat. It's only a year – minus a week – until the next one.

A few more shots from last Saturday can be viewed in this Flickr set (including a couple of an Imperial Storm Trooper ... no foolin').