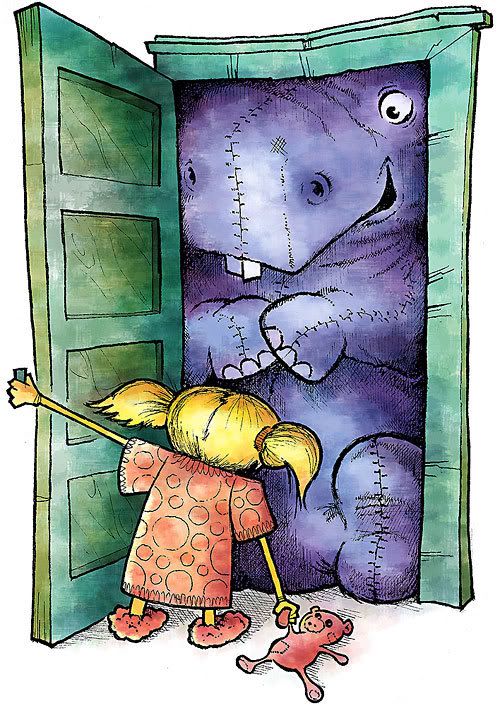 I haven't drawn in a little while. I needed some hippos in my life. So it seemed a touch like destiny when Illustration Friday upped and decided their theme-of-the-week would be

discovery

. That's a theme as vague and wide-ranging as it comes. Destiny also came in the form of a rare summer weekend spent largely kicking back and otherwise staying around the house. Plenty of time to draw, which hasn't been the case of late.

The above is a fairly straightforward interpretation of 'discovery' – and I'm not ashamed of that in the least. Anyone can be faulted at least once in their life for wanting to draw a hippopotamus. I'd never tried it myself, and this sketch almost got through with the beastie having quite humanoid feet before I realized that probably isn't the case with real live hippos. I added stitches late in the game in case anyone accused my hippo skillz of not representing – so I could retort with an

oh yeah? well it's a toy hippo

and a

toy hippos can look however they want

. That sort of deal.

If you want to see a better look at some of the pen detail in this illustration, check the larger version on my Flickr site here (click on 'all sizes' to magnify).