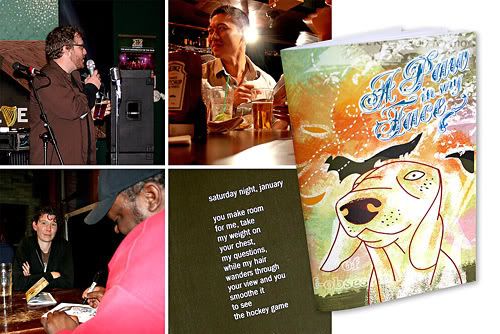 Clockwise from top right:

Chris Pointon thanks contributers in attendance for their work; tabletop snapshot of the festivities; the cause célèbre –

A Paw In My Face

(cover art by Mr. Pointon); one of three poemlets submitted by Kerry; Allan aka El Negro Magnifico finishes up a

PIMF

street poster.
This past weekend, the cumulative efforts of our city's artistic establishment resulted in the grand release of the first issue of

A Paw In My Face

. The co-brainchild of Chris Pointon (he of the fabbo Pop77 mixes) and Meagan Radford,

A Paw In My Face

strives to achieve what the

HOWieZine

does on its more semi-regular basis: allow creatives to step outside the boundaries of their respective jobs and ... be creative.

Offering a premiere issue theme of

love

, contributions as varied as photographs, writing, doodles, designs, comics and one modified architectural drawing(!) came together and underwent careful mixing and editing by the two founders – culminating with the release Friday evening at the King's Head Pub. From here, the quest begins for at least one more issue (early indications hint at a theme of hate, how cool is that). For now though, the city's artsier and fartsier establishments get peppered with 200 copies, less handouts at the premiere and one copy stuffed in the hands of Premier Gary Doer, who for reasons unclear was also pubbing it up Friday night.

My own submission, not posted, may be familiar to some of you who drop in here – it was a modified version of this piece, drawn some time ago for Illustration Friday's theme of "song".