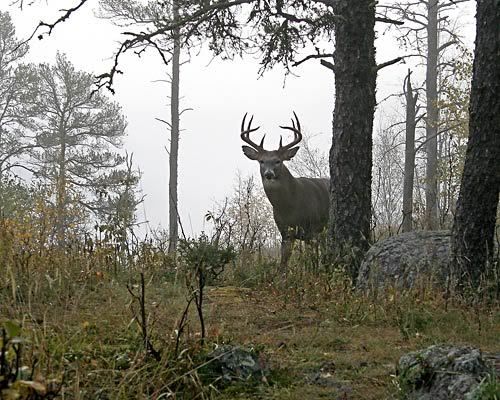 I realized I never came up here – since the computer is in the attic, I consider my blog "up" – to crow about a recent contest I entered and received a fantabulous prize from. The provincial chapter of CPAWS (the Canadian Parks and Wilderness Society) held a summertime ask for Manitoba-based photo submissions for their 2008 calendar via their

Naturally In Focus

photo contest (view the dozen finalists here). And two of my entries (out of 473 total, though they really,

really

run the gamut in terms of quality) won berths in the calendar, both snapped on our quick vacation last September to the Whiteshell and Riding Mountain. The photo of a white-tailed deer buck in fog near West Hawk Lake (above) won in the "Manitoba Wildlife" sub-category, and my point-up-and-shoot image of fall aspens in Riding Mountain National Park (below) earned me second place in the "Patterns in Wilderness" section. And though I'm not certain how the prize-doling all worked out, I now have me a sweet $250 certificate for work done at a local framing outlet.

Crisper versions of the deer and aspens can be had here, and here, respectively.