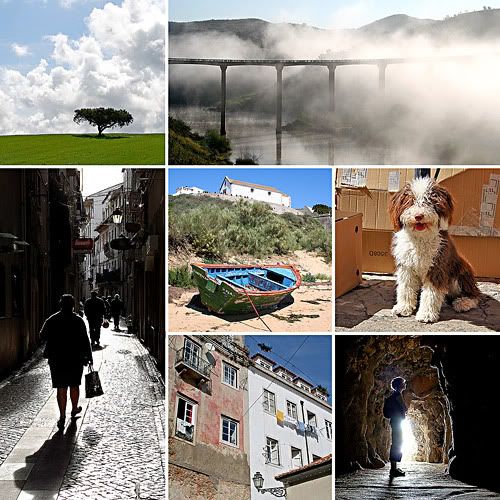 Top row

(left to right)

: a lone tree near Serpa; the Rio Guadiana emerges from fog in Mértola.

Middle row

(left to right)

: the cobbled streets of Coimbra; a beached boat in Cacela Velha, the terminus of our bike trip; a Seville pup mugs.

Bottom row

(left to right)

: every day is laundry day in the Alfama; Kerry explores the caves of Quinta da Regaleira.
We began our vacation in Portugal sitting atop a wide staircase to an old church – fighting first-day jetlag by lasting until sundown – listening to an unseen man in the square below whistling

Jingle Bells

.
We'd been dropped in Serpa with our wheels for a one-week self-guided cycling trek south to the Algarve coast, via river-hugging towns Mértola and Alcoutim, and with darkness and rain settling in our weariness trumped even an attempt at locating a place for dinner. But with opening-night jitters behind us, we left town on day two with a bag of lunch goodies (regionally-famous, locally-made cheese chief among these) on a round trip through the countryside, reacquainting our winter legs with the concept of cycling. In hindsight, it's astounding how small our vacation started out – in comparison to the bustle of Lisbon three weeks later – but on that day we were permitted to gawk at local banalities like roosters, cacti and groves of orange and lemon trees (I thought they smelled an awful lot like laundry detergent). And not realizing the power of even cloud-peeking sunshine, I successfully burned the backsides of my biking hands – which in ensuing days turned nicely purple with doses of windburn and rain-freeze.
Serpa seems a real working-class town, and it's too bad we just missed its big Easter celebration. And the morning we left it was out-and-out lousy outside (

chuva todo o dia

, our hostess warned), but by lunchtime we had escaped the drizzle and traveled the highway to Mértola under improved conditions, ending with a rewarding switchback decent and a stop-in-our-tracks gawk at the huddled, clifftop town on the final curve. Poised above the Rio Guadiana, Mértola is a thin, cake-slice walled old town capped by imposing castle ruins – an amazing sight. We spent the entire next day wandering its streets, castle remains, museums and eating a cod dinner with a local soap on the restaurant TV. Restaurants always seemed to have a TV on, ones showing

futbol

were the best. The coolest thing though was an archaeological dig being conducted on a torn up street; we'd walked by it a few times before noticing the sideways-sleeping skeleton in the dirt. Cool

and

creepy.
The ride continued to Alcoutim, situated on the Guadiana where the river forms the border with Spain. The small village made for a quick stop (one night only) but offered a nice end-of-day destination – and the following morning we waited long enough for its annual Easter Sweets Festival to set up, where we nabbed some prophetically decent sweets before the ride on to the long-weekend bustle of the Algarve coast. It was in a tiny, relatively untouched pocket of rural farmscape where the bike trip eventually concluded, and this area offered the perfect scenario to complete what was a more grueling adventure than we imagined. The family-run place we stayed near the coast had its own flock of a dozen-or-so horses and a 24-hour rusty-hinge braying donkey. For an extra day we based ourselves here and rode into neighbouring hamlets for walks on the beach and beers-and-toasties. But it also capped our cycling portion, and soon we'd have to shift to part two of the holiday.
This began down the road in Tavira, nestled deeper in the tourist-centric part of the country. Here we based ourselves for the two-day tour we booked to take us into Seville and Gibraltar, which ended up being more than a tease than anything – fine enough to lay claim to witnessing both these fascinating cities, but the amount of travel-time versus exploring these locales was tipped heavily to the former, and the payoff, though incredible, was not enough to tip the scales. But if anything, it certainly cemented Seville as a destination to explore again someday. It is a city that can take days to devour, an eye-popping visual treat. Gibraltar is more a curiousity: geologically imposing, historically a strategic location for conquering powers but now a modern-day mixture of army/navy pomp and touristic excess that borders on the bizarre, as if the British military opened a theme park – complete with cliff-hugging rollercoaster streets, dank spectacular cave networks and Europe's only native monkeys (apes they call them, but actually macaques).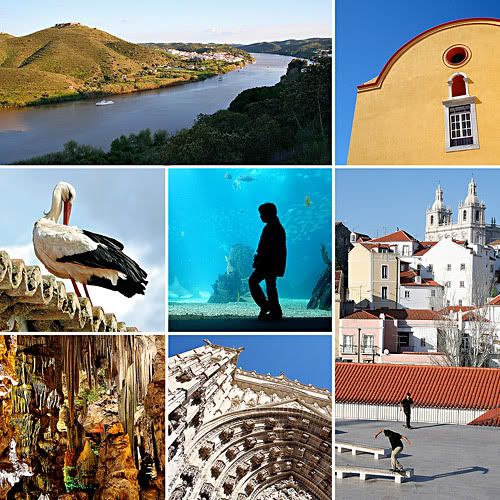 Top row

(left to right)

: an evening view of Spain from Alcoutim; primary colours rule in Tavira.

Middle row

(left to right)

: rooftop stork in Mértola; Lisbon's Océanario; skateboarders in the Alfama district.

Bottom row

(left to right)

: the caves of Gibraltar; architecture in Seville.
Dropped back in Tavira, we were ready to head north and try a different part of the country. Leaving the following day on a pre-dawn train, we departed for Coimbra, a mid-sized university city a couple of hours north of Lisbon. An entirely different beast than the sunnier southern climes, Coimbra – the core of it at least, where we stayed – is grittier, urban and buzzing. The original walled city clings to an impossibly steep hill off the Rio Mondego, with the centuries-old university at the tip-top. Capital of Portugal in a distant past, the core is chocabloc with historical significance (summed up nicely by the difference between urban Coimbra's "new" cathedral, from the 1500s, versus its stunning "old" cathedral from the 1100s). Kerry was nursing a cold at this point, so perhaps the best discovery we made here was the public market, an indoor expanse of vendors supplying breads, cheese, fish, fruits and vegetables. The city as a whole was the perfect back-on-the-horse plan of healthy food and never-ending climbing of stairs; steps winding their way to the university at top are appropriately labeled

Quebra Costa

("the backbreaker").
Our final week was spent in Lisbon, quite possibly the farthest cry imaginable from our launch point in Serpa (now feeling months away). By luck more than anything, we procured amazingly central and convenient lodging, and from our location on Praça da Figueira we set out on our first partial day to get lost in the maze-like and directionally nonsensical Alfama district. Our first full day in the city was spent making hay of various locations' Sunday free-admission policy – the beautiful

azulejo

(traditional painted tile) museum and the cavernous Panteão Nacional – before getting hosed of our euros at the overhyped Castelo de São Jorge, and subsequently both winning (me:

mmm

, delicious squid) and losing (Kerry:

umm

, glass-eyed sardines) at dinner.
The next day we took the metro to the gargantuan Océanario – touted as the world's second-largest aquarium – spotting in the tanks various rays, sharks, rockhopper penguins, sea dragons and one hideously monstrous Pacific Ocean sunfish (I liken this to a two-ton, somehow-still-floats granite boulder). On a roll, the following day we hiked to the Gulbenkian Museum, an impressive collection of goodies and art ranging from Egyptian, Greek and Oriental antiquities to portraits by Reubens and Rembrandt.
The final pair of days in Lisbon were punctuated by onsets of vacation exhaustion, and our pace slowed a touch. The first was spent outside the city in the forests and shade of neighbouring Sintra where we explored the ruins of a hilltop Moorish castle with ocean views, the blue-blooded glitz of the Palácio Nacional de Pena (summer home of the now-defunct Portuguese monarchy) and the trippy, cultish grounds of Quinta da Regaleira – which I can only describe as what the Neverland ranch would have looked like if designed a hundred years ago. Our last day of vacation was retrospective, back in town with a two-dollar bottle of wine and falafel for lunch in a riverside park and almost falling asleep in the sunshine on the roof of an Alfama church.
Out for our final dinner in the hipster Bairro Alto district, we hear a muzak version of

Jingle Bells

blaring through a megaphone. It was time to come home.
My best photos of our trip will commence popping up on my Flickr page over the days to come, so the best advice I can offer is to check often. I will be, just to keep the memory fresh.