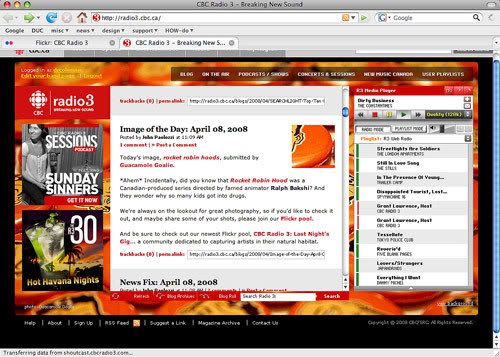 One of my more rewarding Flickr finds has been the CBC Radio 3 group page. It's a decent enough depository for quirky or interesting snapshots of Canadiana (mixed in with some straight-up scraps of randomness) – and I've contributed more than my fair share, 41 in total. But the ultimate goal of anyone submitting to the CBC Radio 3 group is

being chosen

. Chosen specifically, as image of the day, a special moment in a photo's life where it ascends to official background status on the CBC Radio 3 homepage. This past Tuesday, a photo I took of my Rocket Robin Hood buttons for the 2006 GDC Manitoba button swap attained image-of-the-day status – the second time I've made the cut (the first being last June, with this shot of Kerry on the swings in Matlock taken with slide film many moons ago). In addition, this shot of a grumpy Shriner in last summer's Icelandic Festival in Gimli was used on the CBC Radio 3 blog

(below)

in a discussion about, well, summer festivals.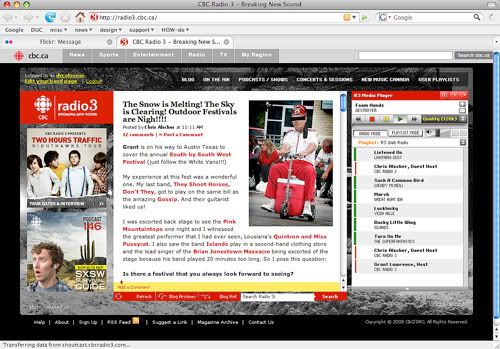 For this, I earned the pleasure of receiving a free t-shirt and nostalgia-riffic CBC button in the mail while away on vacation. Yeah. So there. Free t-shirt. I figure that's fair, not only for a day's use of a couple photos, but also for the many Canuck bands I've discovered through their Friday podcast.