The vacation, today, is officially one month old – and I am finally prepared to stash my photos in a folder, designated henceforth as memory-inducing. My final vacation-related activity was piecing together a generous handful of multi-photo panoramics I took on the trip. These shots are a combination of Photoshop's Photomerge feature and hand-and-eye stitching work.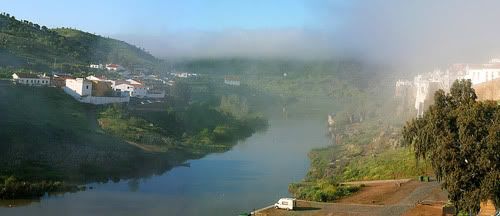 Above:
morning fog lifts from the Rio Guadiana, as viewed from the balcony of our hotel room in Mértola. Still quite early in the trip, this photo was taken on our self-guided bike tour. The previous two days featured constant threats of rain, and I woke up very early on this morning to check the weather from the window – expecting ominous, overcast skies but witnessing this beautiful scene instead. Four-photo stitched panorama (
click here
for a larger view).

Above:
a seven-photo panorama of Alcoutim, one day later, as viewed from the village's castle ruins. That's the Guadiana again, much larger at this point, where it forms the border between Portugal and Spain.
Click here
for a larger view.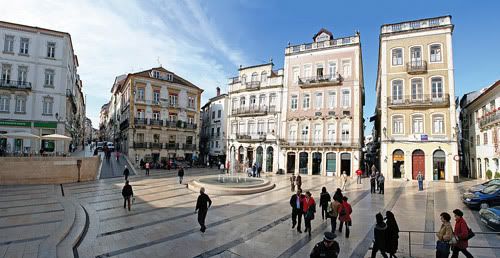 Above:
a five-photo panorama of morning bustle in Praça 8 de Maio, Coimbra. There are flaws in this piece if you look close enough, but I absolutely had to have this shot. I did some initial seaming using Photomerge and went to work on the rest by hand, adjusting architecture, tones, angles and even a couple of people.
Click here
for a larger view, where some of the flaws become more apparent.