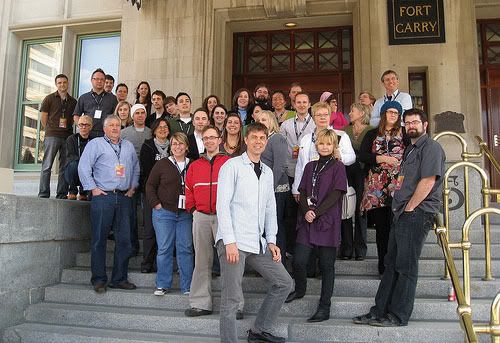 Participants of the 2009 GDC Annual General Meeting (photo courtesy of Adrian)

I spent the larger part of this weekend – plus Friday, plus Thursday evening – partaking in the annual rite of spring that is the
(deep breath)
Annual General Meeting of the Society of Graphic Designers of Canada (GDC). I lost out on the 2008 event in Saskatoon, but with the hometown setting there was no missing it this time around. The event took place at the historic – and notoriously haunted – Hotel Fort Garry; no ghosts were on hand at the proceedings however, just some 40-or-so attendees (give or take) and some 39-or-so MacBooks (I was the holdout, it often seemed, opting for a pen-and-Moleskine tandem). I represented as the host chapter's communications chair, a role I've been filling since 2007.
From a personal standpoint, this was a learning experience for me. My work has paid GDC membership dues for years, and only since I joined the local chapter executive did I begin to reconnect with the industry profession I'd chosen, following years practicing in the Manitoba hinterlands (sorta). So the AGM was the next step in branching out, meeting reps from other regional and provincial chapters, the national team, and all the big heads that make this volunteer organization run. Should I be so fortunate to again attend a national AGM – perhaps next year, on the road someplace – I'll have this weekend tucked in my pocket and a stronger taste for bigger-picture thinking and doing.
I wanted to add, one could not meet a nicer, smarter, keener and more dedicated crew of designers and related sympathizers. Even though I was an AGM rookie – on my home soil no less – I was feeling comfortable and included within minutes. Each person in attendance was there on their own clock, away from the comforts of home and the demands of their businesses to partake in the bettering of our profession and its direction in this country. Good on yeh, GDC.

Click here for visual evidence of all the goings-down.