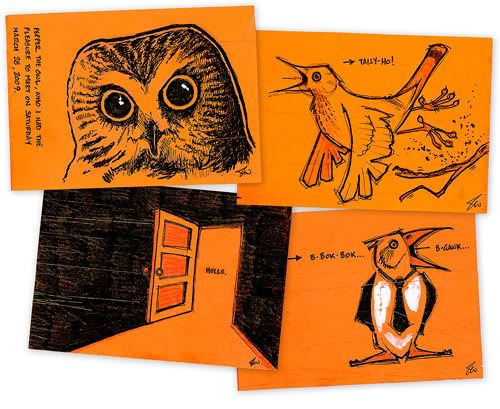 A couple of months ago or so, my Alabamanian friend
Mary
devised a simple enough scheme to exchange small pieces of art through a small doodle swap. Twenty or so folks joined in, and were divided into a pair of groups who exchanged addresses and were given a send-out deadline in mid-April. And nice for me, since in a few weeks these things will begin randomly dropping in my mailbox – if all goes according to plan – on ten separate occasions.
Some folks, I believe, are theming their cards; me, I went straight to the heart of doodling and created ten individual scribbles with little or no link to one another. Some were über-quick, some I spent more than a handful of minutes on. A couple I even tore up and started over (going against everything the doodle stands for). I used a scrap of brilliant orange posterboard, littered with X-acto scratches from its previous life as a cutting surface for old

Howiezines

. I used two pens – one ultra-thin and a thick calligraphic nib – and a brown-ink brush pen, with bits of pencil, white watercolour paint and blue ball-point thrown in for good measure. I rubber-banded the lot and let them bang around in my backpack a week or so to erode them a touch. And as a bonus, on the backs of the cards I pasted equally-random photographs.
Shown above are four of the total ten. I'm not divulging who they were sent to, nor for the moment offering a closer look until the swap is complete – keep pants on.