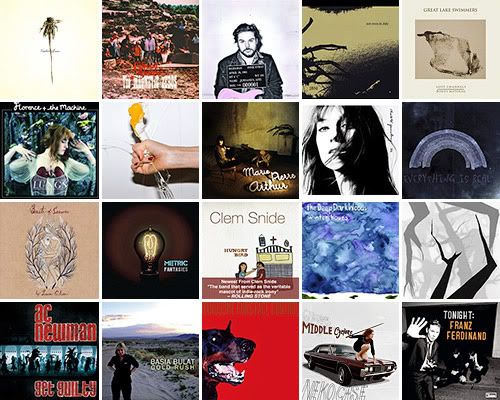 2009 was a fantastic year for music in our house, our town and in our country. K. and I attended some fine shows passing through the city, culminating with my favourite Folk Festival – check that, far and away favourite – since I started attending in 1993. Seven of my favourite albums (and four of ten favourite singles, below) this year hail from the homeland. Canada, take a bow.




1)

Patrick Watson //
Wooden Arms
– I picked this up in advance of their appearance at the FolkFest and haven't put it down since. Spooky, ethereal, inventive, like nothing else I've heard in a long time.
2)

The Deep Dark Woods
//
Winter Hours –
a selection of K.'s from the Folk Fest, the perfect prairie album with great storytelling
.
3)

Metric
//
Fantasies
– mebbe not as airtight and rock-hard as

Live It Out

, but solid nonetheless. Just try not and sing along to "Stadium Love" at the end
.
4)

Neko Case //
Middle Cyclone
– following the footsteps of "Ghost Wiring" and "The Needle Has Landed", "Red Tide" continues an odd streak for myself of finding the final track my runaway favourite from Neko's albums.



5)

JBM //
Not Even In July
– who

is

this guy? A gorgeous piece of work.


6)

Bahamas //
Pink Strat
– a FolkFest discovery and absolute wiz on the guitar, Afie Jurvanen's album is desceptively sweeter than the goofy/gruff rock-star exterior he exhibits on stage.
7)

Marie-Pierre Arthur //
Marie-Pierre Arthur
– I have no idea what she's singing about beyond the titles "Elle" and "Pourquoi", but I'm hooked – a tribute to her amazing voice (and her band's sound).
8)

Clem Snide //
Hungry Bird
– a quiet and heartfelt little thing.
9)

Yeah Yeah Yeahs //
It's Blitz!
– the one-two punch of "Zero" and "Heads Will Roll" is as balls-out as anything put out in a long time, making up for a mellower back end than I would have liked.
10)

Great Lake Swimmers //
Lost Channels
– a solid addition to their œuvre, even if a step down from the beginning-to-end awesomeness of

Ongiara

.
I also pilfered a number of singles off of albums I wasn't keen on as a whole. They're ranked here, and this list does not include singles from purchased albums:
1)
Radiohead

// "These Are My Twisted Words"

2)
Handsome Furs

// "I'm Confused"
3)
Laura Gibson

// "Spirited"

4)
A.C. Newman

// "All Of My Days And All Of My Days Off"
5)
Charlotte Gainsbourg

// "Heaven Can Wait"
6)
Leeroy Stagger

// "Everything Is Real"
7)
Basia Bulat

// "Gold Rush"

8)
Edward Sharpe & The Magnetic Zeros

// "Home"
9)
Florence + The Machine

// "Kiss With A Fist"
10)
Franz Ferdinand

// "Ulysses" & "Katherine Kiss Me"