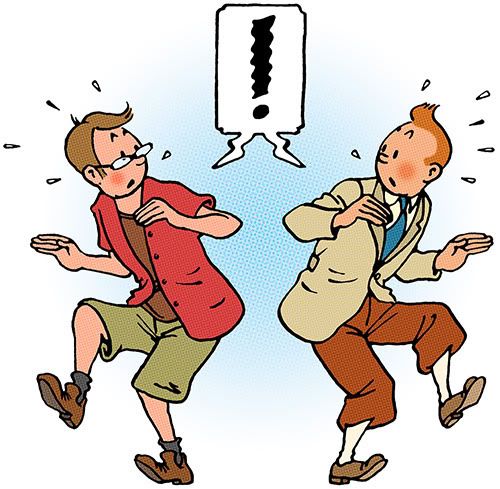 I never experienced the glory of a comic-book phase at any point of my childhood (or adulthood, for that matter). I was left awkwardly in the lurch in high school art class when my friends held competitions to see who could draw the best Wolverine. My only comparable obsession came from reading

The Adventures of Tintin

books, which were stocked as a beat-up, dog-eared collection in my elementary school library, usually alongside a few copies of

Asterix

.

Now that I'm all grown up – complete with disposable income – I'm slowly piecing together my own collection of the

Tintin

series. One here, one there – usually procured at Toad Hall Toys whenever I'm searching for presents for my niece or nephew (or for Kerry). I'm finally coming into my own as a full-blown Tintin geek.

This primarily stems from my absolute love of Hergé's artwork (that, and the fact that any scan of Captain Haddock's furious mug usually makes me laugh). But Hergé's graphic, flat-colour, stay-within-the-lines approach has always had an appeal for me as a sensible, structured and detail-oriented graphic designer. I've long wished to make an attempt at placing a character of myself into Tintin's world, seeing how we share similar dimensions, taste in clothes – often, even the same wisp of hair. And this week, I finally pulled it off.

Click here, for a closer look.