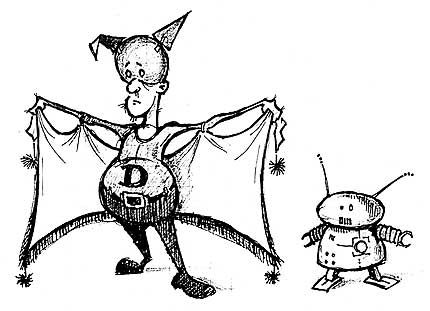 It's crunch-time for house preparations. Packing has started in earnest. Details are being attended to. One thing that will get lost in the hubbub, besides my mind, will be this site. So, much like the big TV networks, I may resort to summer reruns. Like this guy, for Illustration Friday's theme-o-the-week:

heroes

. This is

Duncanman: Sadsack Hero

(and his robot sidekick, Number Two). Duncanman was spawned at a department meeting some time ago, back when my only creative spark seemed to arise from department meetings (I think it was the nonstop droning that would trigger my sketching bone). Duncanman was originally drawn on grid paper with a black 01 Sakura Pigma Micron pen, scanned, and tweaked in Photoshop to get rid of the blue grid background.
Side note:

Duncanman is not based on either of the Duncans I know in real life.