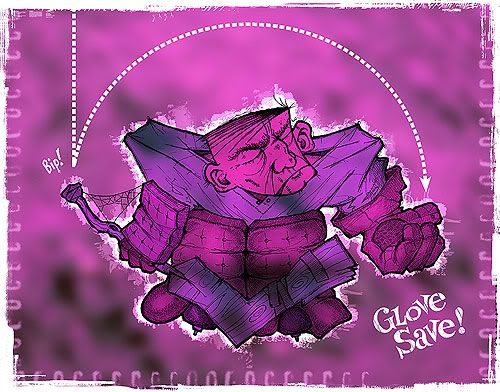 In the olden days, NHL goalies were the players who couldn't skate as well, the ones who were a bit chubby or slow on the uptake. Not so anymore. Goalies are now the ultimate athletes on any team – the most flexible, the most acute and aware. There is sparse glamour in the modern game, but on any given night a goalie can (both literally and figuratively) stand on his head and steal a win. The other day I watched a recap of a 7-1 game, and the standout highlight was a phenomenal diving save – by the losing goalie.
For this week's Illustration Friday I've flip-flopped the theme (

glamour

) and created an entirely unglamorous homage to the helmetless, chain-smoking goalie of old. The initial sketchwork was done on Sunday in pen and pencil. A wash of colour – as well as border textures and some minor surgery (this was not the sketch's original face) – was completed in Photoshop Monday night. Click here for a closer look at the detail. And as always, let me know what you think.