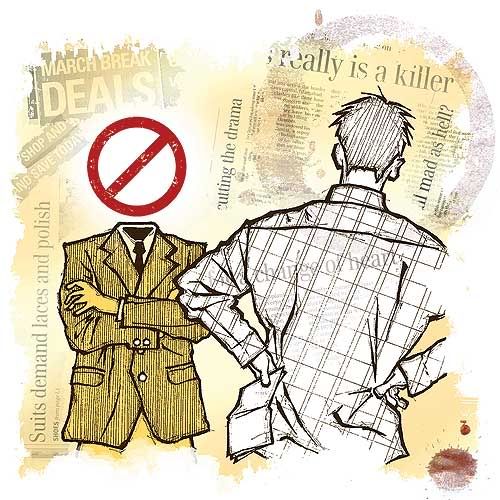 I've done the occasional spot of freelance design work in my time, but I don't always actively pursue it. I've got a nice job that keeps me comfortably in my decidedly un-lavish lifestyle. On the indirect advice of my dad once to not bring my work home with me – and since I abhor stress – I made a decision some time ago to try and always have ample time to do fun things. Since

Jeopopolis

started, healthy portions of that ample time have gone towards creating all the stuff on display here.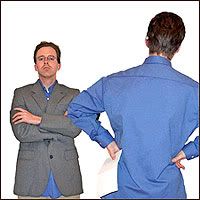 But on Tuesday – from out of the clear blue sky – I received an email from a fellow designer on the

HOW

forum in regards to a quick jobbie he needed by Thursday morning (the request was to create a 5" X 5" illustration for a fiction excerpt in a magazine). And I took the challenge for my first-ever freelance illustration assignment. On my Tuesday evening commute, I read over the excerpt (a taught newsroom showdown between a scrappy journalist, his editor and their bottom-line-worshipping publisher). I quickly envisioned two illustration scenarios and chose one.
Later that night I took reference photos to set up this composite (

above right

; that's me versus me there) to help scope it out better, and snapped other photos of various newspaper pages for the background. By midnight I had finished the sketchwork, then quickly pieced together this rough Photoshop file (

below right

) to show the idea on Wednesday morning. But because of the time constraints, I was nervous about approval; I wouldn't be able to incorporate any potential changes until after work on Wednesday, and it was due the following morning. Fortunately, any feared changes didn't pan out – sans one minor detail – and I was able to craft a final submission after my Spanish dance class on Wednesday night. And by half-past midnight, it was complete.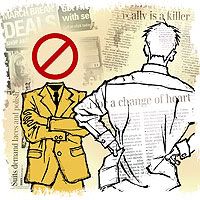 You might notice the final piece is a bit familiar: I borrowed heavily from this Illustration Friday submission of mine from last summer – again, that's because of the quick turnaround time. Under the circumstances, I had scant time to brainstorm – so,

draw what you know

, essentially. I had no qualms with that, and like how the final result turned out. In my rationale I described how the character of the publisher was shown as an obstacle and how I attempted to show the chaos and clutter of the newsroom. The background is made up of the photographed newspaper clippings (ones that best fit the plot of the excerpt I was given), a simple wash of colour to emulate faded newsprint and a few coffee stains – but I don't drink coffee so I had to use red wine instead.