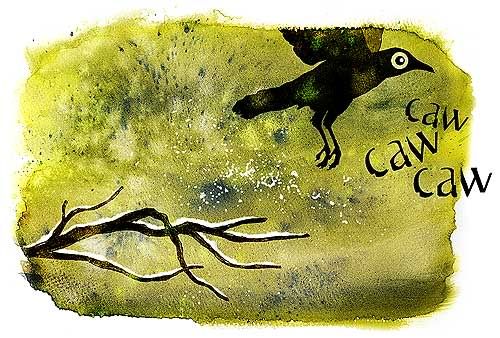 Illustration Friday showcases the word

feet

this week. And what started out as a concept in my head to show a delicate and intricate sketch of a bird's foot turned into this odd scene of a crow launching from a branch with its feet dangling behind. Originally meant to be just feet of an unseen flying bird suspended in the air, I couldn't find suitable enough reference material to use (I thought I had a photo around but realized I was imagining the crow from the opening credits of

Six Feet Under

).
So instead, this sketch ended up coming straight out of my head.
The crow and branches were silhouettes drawn in pen, while the background texture was made with watercolours. The two were scanned and merged in Photoshop; snow, text forms and the crow's eye were added digitally. Click here for a more detailed look.