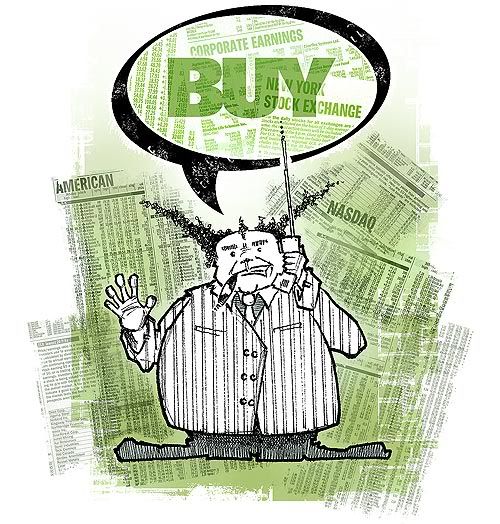 Appropriately enough, the
phat
(like the kids say) new redesigned
Illustration Friday
offers up the theme of
fat
this week. The rapidly growing site has recently undergone a wonderful transformation that will hopefully enable viewers to check out weekly submissions without being overwhelmed by the massive list format the site has outgrown from its popularity.
So I had to try it out and worked this quick sketch into something that would fit the bill.
Oddly enough, one of the things I can draw well on any given attempt is fat businessmen. Like this guy; all bloated, cock-of-the-walk, gabbing on his vintage brick cellular phone. The sketchwork took about twenty minutes – but to really get across the notion of
fat
, I incorporated a digital backdrop that puts Mr. Fatcat in his element, made up of a few scanned business pages from the
Globe & Mail
and an overall green colour scheme in Photoshop (the central speech bubble design was carted over from Freehand).