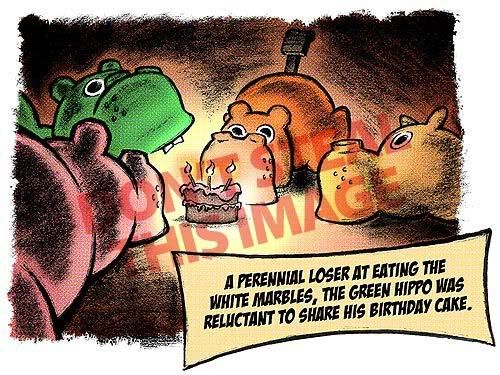 I've been on a photography tangent of late, and had an idea for last week's Illustration Friday theme of
sorry
only to not have sufficient time to see it through. A portion of the idea though, was salvaged for this week's theme of
cake
– an idea revolving around Hungry Hungry Hippos, that bastion of 80s family entertainment that sadly, I never got to experience. That is, until a friend at work bought a slightly worn version (sans marbles and one working hippo) at a garage sale for $1.50 and gave it a new home in our art department. For now, we use small spherical candies while a decision is made on how to get proper regulation marbles.
So without attempting to further divulge about the inspiration behind this sketch, I'll be frank: I just wanted to draw Hungry Hungry Hippos, theme-of-the-week be damned.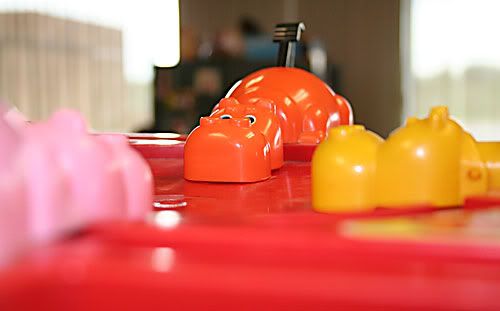 The illustration itself was conjured up based on this reference photo
(above)
I took at work before splitting for the weekend. First mapped out in pencil, then sketched over with varying thicknesses of pen (including a brush pen for some portions) and shaded quickly with brown, black and white conté sticks, the image was then brought into Photoshop for cleanup and colour work. The scanned, pre-Photoshop sketch is shown below. I
f you grew up with this game, help me feel better by telling me how it wasn't really that special anyway.