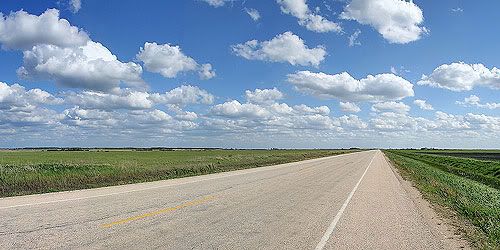 Last Tuesday I took advantage of a strong western wind and rode my bike home from work – a 62-kilometre commute from my desk to my door on the edge of downtown Winnipeg (I carpool to work in a large passenger van that boasts a cargo bay large enough to accommodate my bike on most days). I've made this trek once before, in 2004, and have been meaning to do it more often but it depends on a number of variables, chief among them the wind. Other factors include temperature, sunshine and a lack of plans for the evening I make the trip – which, including vital dawdling time, adds up to about three and a half hours.
I take the scenic route, leaving the building south on Highway 220

(above)

and making a left at Highway 67. This is where the wind helps, because it's a tedious 17-kilometre stretch of road, and the only portion where I'm left to deal directly with traffic and the full 100-KPH speed limit. Nearly everyone cuts me slack, but the occasional unwieldy dingus will make it less fun than the ride should be – and idiot me, I made the decision to ride home so late in the day I forgot my helmet on the van (my bad). But this is rural Manitoba, so even at what would be perceived as a peak hour, I'm often left alone with wide stretches of empty road, birdsong and scared cows who've likely never seen a man on a bicycle before.
At the end of Highway 67, I turn right towards Winnipeg and head off the highways and into the town of Lockport, following a small road along the Red River. At Lockport, the river is bustling with giant white pelicans feeding on fish churned up by the locks and dam, and I stop at the Subway to pick up a sammich. From here it's 20 kilometres to the city limits, and with the tailwind becoming a nuisance side-wind, this portion becomes tiring. It's almost seven o'clock and the sun is dipping, bringing out bugs that begin to pock my face and glasses (I swallowed two on the ride; one aphid, one mystery bug). An hour later I reach the city and take a rest at a riverside park where I munch on my sub and rest my butt.
Once in the city, I take my time heading through downtown. Spring flooding on the rivers has receded so I check out The Forks and the beautiful new bridge to the French district in Saint Boniface. A game is in progress at the ballpark (Kansas City T-Bones 4, Winnipeg Goldeyes 2). It's a nice evening and people are out, but I realize it's well past the time I said I would be home so I duck out along Assiniboine Avenue, behind the provincial legislature and into my neighbourhood. The ride took me four hours and nine minutes, including dinner and pelican-watching.





Top row

(left to right)

– a creek that feeds the marsh where I work; the junction of Highways 8 and 67; road sign (tough call).

Middle row

(left to right)

– the Red River north of Lockport; flag on the dam (see, it's windy); into the suburbs.

Bottom row

(left to right)

– entering downtown; the new Esplanade Riel to Saint Boniface; the Manitoba legislature.



Bonus photo!

Click here to see at least a hundred pelicans (horizontal scrolling required).