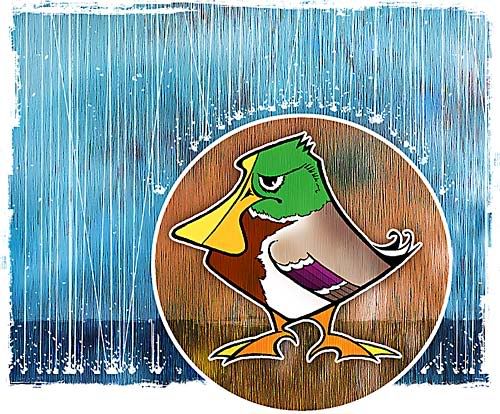 Rain may fall easily off a duck's back – but that doesn't mean it has to like it. Take this duck (a mallard, 'natch): even though his feathers are impermeable, he's grouchy as heck on account of all the

rain

(Illustration Friday's theme of the week). I was originally planning to draw two ducks, one with a raincoat and one without, to illustrate the same adage. And I began with this upset hombre, but when I was finished with him I figured the point was made. Plus, I just enjoy his expression – and didn't want to jeopardize the thing by attempting a second duck.
I was trying out a number of pens to practice working with different thicknesses, but my penmanship isn't confident enough yet that I can pull off effortless and natural-looking thicks and thins – and quite a bit of eraser-work in Photoshop was needed to clean up errant spots and lines. I may also keep the original duck sketch handy for vectorizing in the future.
The background was originally a straight blue-grey watercolour wash, and then scanned and with a slight vertical motion blur applied in Photoshop. The blurred fill was then given a harsh treatment using the unsharp mask feature to give it texture. Added overtop was a second scan of a bunch of ruled pen lines and splatters I did on a sheet of paper. Individual rain splatters were then relocated digitally to surround the duck's "aura", made by highlighting a circle of the background and giving it a hue shift to make it appear somewhat drier inside the circle. Click here to get a slightly more detailed look.