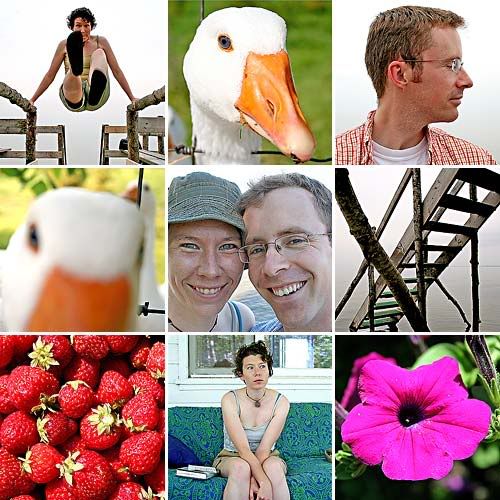 Top

(left to right)

: Kerry on the pier's parallel bars; a farm goose shows her good side; I show off my long weekend stubble.

Center

(left to right)

: a goose ate my camera lens!; me and Kerry; the pier from below on a hazy day.

Bottom

(left to right)

: precious berries; precious Kerry; an incredibly purple flower.
Two of my favourite holidays happen a week apart, and one of 'em ain't even Christmas.
Canada Day
marks the beginning of July and this year it was spent at Kerry's parents' cottage in Whytewold – a block from Lake Winnipeg and an hour or so north of the city. The cottages on this side of the lake are a throwback – many left untouched for decades – giving the village a distinct and timeless feeling, with just about the only cottages left in the country still attainable to the common man. And with the exception of a few long-weekend revelers, it's a quiet and relaxing destination where time slows down. The lanes are gravel, the birds and dragonflies fill the air and lanky wooden piers are rebuilt every summer to help swimmers over the stony shores.
On the other end of the spectrum, let me introduce to you my coworkers Jacques' and Nathalie's annual

St-Jean-Baptiste Day

party. Kerry and I dropped in on last year's revelry, which was extra-celebratory on account of a visiting Mexican deligation to work that Jacques invited. But with or without the Latin tinge, the party held at their house in the city's french district is fast becoming legendary – complete with bonfire, all the

joie de vivre

one could ask for and toasts of

Caribou

(fortified wine) on the quarter-hour. The day, originally held in honour of the patron saint of Québec (St. John the Baptist), now marks the

Fête nationale du Québec

– an official stat holiday recognized only in that province.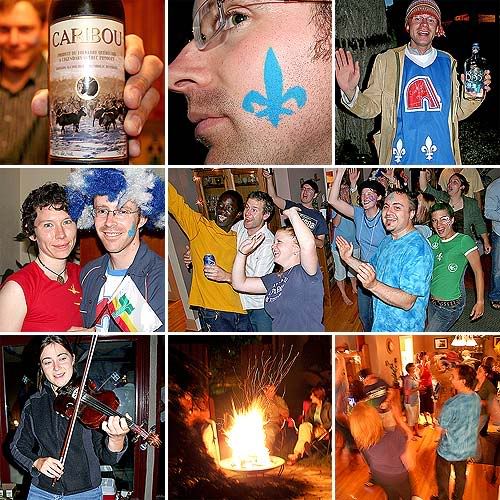 Top

(left to right)

: Jacques prepares the obligatory Caribou; I acquire the mark of approval; Dusty looks the part.

Center

(left to right)

: Kerry and I get cultured; our umpteenth toast of the evening.

Bottom

(left to right)

: It ain't a party without a fiddler; un petit feu keeps the bugs away; house party!