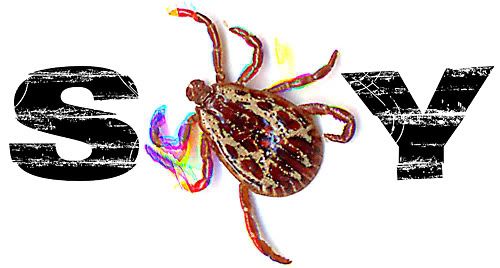 I wasn't set to do an Illustration Friday submission this week. The site's theme of

sti
cky
had me thinking of a couple of ideas, but I didn't follow up. Then – as it is often prone to do – inspiration came crawling across the floor and up my leg, this time in the form of a woodtick. Ticks can be sticky things (or

stick-y

, in a truer sense of the word), but fortunately this bloodsucker didn't get the opportunity. Instead, it earned a date with the department scanner at its highest power of magnification, and immortality not in the literal sense (that I made certain) – but rather as the centerpiece of this quick digital concoction. So bear with me in that no illustration ever took place to build this; instead, try to view it as a form of performance art – and a fast bit of summer fun.

Those less squeamish can click here for a closer look at a scanned wood tick. The rainbow effect on both images was a happy accident; but that's what you get when you don't stay still while being scanned at a bazillion DPI.