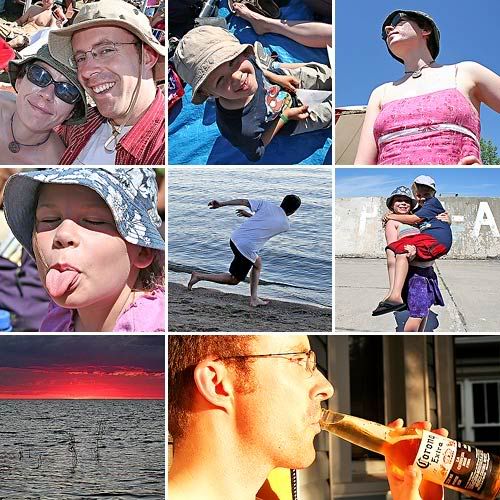 Top row

(left to right)

: Me and Kerry at the Winnipeg Folk Festival; teaching Duncan to make an origami crane; Kerry searches for a seat at the festival's afternoon Sadies concert.

Middle row

(left to right)

: Anna mugs; skipping stones at dusk; Anna gives her brother a boost on the Gimli pier.

Bottom row

(left to right)

: Sunday sunrise, Lake Winnipeg; on the porch on a hot evening, curing what ails me.
I'm shutting down for an indefinite amount of time, for a variety of reasons - some good, some not so good. Firstly, it's summer – and I'm having a harder and harder time justifying the act of using my time to sit at the computer tinkering with photos or crafting other creative jobbies while it's either too sweltering or too beautiful outside to fully devote myself. Also, with summer come summer doldrums – recently I've found my ability to concept is outracing my ability to properly execute; too often I'm scrapping ideas at the sketchbook stage for lack of craft, concentration or the seemingly outright ability to draw. This I have to attend to on my own, without the self-imposed pressure of posting stuff here each week (this sounds strange as I type it, but it's oddly true).
On the plus side, the days ahead are also busy with fun and fantastic things. The Winnipeg Fringe Festival will roll into gear this Wednesday, and Kerry and I plan to get our fill before the end of next weekend when my sister, her partner and my niece come for her inaugural visit to Manitoba. Quickly on the heels of this is a visit from my dad. Then it will be the all-too-brief local corn season, and fingers will be far too messy to type. And then it will be the MS Society's "Biking To The Viking" event, a 170-kilometer weekend charity ride to Gimli, which Kerry and I are attempting for the first time. The thought of a strong north wind scares me even now, more than a full month in advance.
In the meantime, I have to quickly cobble together a concept for the fall edition of the

HOWieZine

(theme:

pirates

) for mailing to the States next week. And below I've attached submissions to both PhotoFortnight (theme:

work

) and Photo Friday (theme:

remarkable

), to fill the void.
Have fun with your summer. I'll be back as soon as I rediscover my creative mojo.
Above:

a penned goose at an organic strawberry farm. The geese are let out to the fields while the berries are still green, and devour just the weeds. While they also adore overripe berries, they do not touch the good ones – nice work if you can get it.
Above:

my remarkable niece Cadence at six weeks. Nearing her second birthday, Cadence is about to make her first trip to Winnipeg.