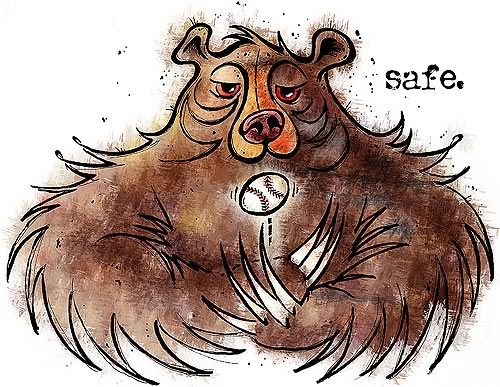 I was watching the BBC series

Planet Earth

– specifically, an episode about mountains and mountain-dwelling creatures – and saw amazing footage of a mother panda tending to a cub in her den. I thought, that's the ultimate sense of security and safety. So for Illustration Friday's theme of

safe

, I decided to draw myself a bear for the first time. Bears may not seem to personify safety to most of us, but whatever a bear cradles in its massive clutches must. But on the verge of hokey-ness, I veered off course and decided that my bear should hold something else. But what? Kerry and I brainstormed over a drive on the long weekend. A duck (my guess)? A jar of hunny (her idea)? A piggy bank (mine)? A backpack (hers)? A big fat turkey drumstick (mine)?
In the end I go with a baseball. Why? No clue. Just a loose tie-in to another popular usage of the word

safe

. This bear says "safe" – and who's gonna argue with him?
This sketch was loosely based off of a black bear photo I dug up to use as reference. I loosely sketched in a thin pen and then went over most lines again, working the thickness of the lines with a brush pen. Colour was added in Photoshop using a palette based mostly from the reference photo and a downloaded sequence of custom brushes by Keith Bowman. You can click here for a closer look at the brush effect, and a portion of the final drawing.