Top row

(left to right)

: A guy at the ballpark who likes like Dick Cheney; shoes on a wire; popcorn in my glasses (photo by Kerry).

Middle row

(left to right)

: lobsters from my sister's summer visit; kitchen-related hubbub at my brother's house.

Bottom row

(left to right)

: how embarassing - Jason and I wear the same shirt at the Folk Festival; the Gladstone Happy Rock (get it?) on Highway 16.

I'm closing in on the 2,000th photo taken with my birthday Rebel. And granted, even though a vast amount of these were outright experiments and castoffs, I'm still as thrilled about it now as I was last October when I got it. In honour of this momentous occasion, here's pics and a post about as random as you will ever see me get here - largely since I promised that this site would ever get to "bloggy" (beak about politics, slag off about work, post pics of kitty).
Top row

(left to right)

: a sample of our bounty; our champion red peppers.

Bottom row

(left to right)

: colossal tomatoes

the size of your frickin' hand!

(photo by Kerry); morning glories.
1) We have been backyard slackers.

Our backyard is in terrible shape: bumpy,
weedy, infested with worms the size of snakes (side note: I'm OK with worms,
but worms should be worm-sized, not snake-sized or bigger - which I have
seen, with my own two eyes, in our back yard – but I digress). But probably
our biggest success story from one year of homeownership has been our
tomatoes. Kerry grew the

hell

out of some tomato plants we bought in the
spring, mainly romas and grape, but also a few mutant giant ones and some
yellow ones. Our summer was also a boon to tomatoes province-wide, but
still. We also managed to squeeze out a few modest red pepper plants and a
single banana pepper so far. Time is running out on all these veggies, but
we hope to see at least another week of production out of 'em.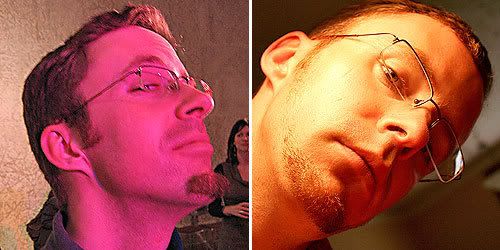 I get all gangsta about my beard: chin foliage

(left)

circa January (photo by Allan); photo #1,997 – my current attempt

(right)

.
2) I've been letting my facial hair out
.

For argument's sake I am not calling it a beard because I reaffirm to
Kerry on a near-daily basis now that I am not growing one. I have been
living clean of such hair for quite some time – up to the turn of the
century it was a constant part of my "frumpy college" look, when I gave scant thought to how much hair grew across my head. Rarely since have I attempted anything close; once was last Christmas, and now this experiment. The last time I did this it refused to fill all the way in and I was called out by my (then) boss:
Boss:

Jeope, what the hell is that on your face?

Me:

I'm trying to grow a beard.
Boss:

Well then, sh*t or get off the pot.
Five-photo stitched panorama of Epinette Creek, Spruce Woods Provincial Park.
3) I neglected to mention

that on the September long weekend, apart from visiting the Criddle-Vane Homestead, Kerry and I also followed through on an idea to completely plan a day for each other and see it through. Hers involved the aforementioned trip to the homestead, an afternoon hike on Spruce Woods Provincial Park's Epinette Creek trail system and dinner at the Headingley greasy-spoon stalwart, Nick's Inn. My day included our first visit to Riding Mountain National Park to test our mettle on the Gorge Creek Trail and a visit to see Ken, Kerry's favourite waiter in the city at Star Grill.