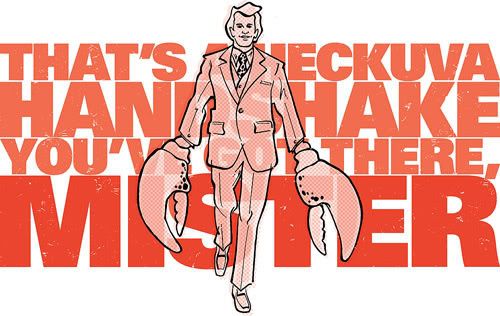 Illustration Friday's theme of
might
brought to the forefront of my consciousness an apparent fascination of mine with big hands. One of my very first vector illustrations was that of an angry, stomping man with oversized red fists. There was
this I-F submission
last winter, for their theme of blue. I laughed out loud at the "giant hands" dream sequence in
The Science Of Sleep
. "Man Hands" is still my all-time favourite episode of

Seinfeld

. And now this chap with the, um, lobster claws. But really, the theme just gave me an excuse to exercise some of my big-hands kicks – and as I looked around my desk at work and noticed a wind-up lobster from Prince Edward Island, I had an image that would not leave my brain until I posted this picture here tonight.

It's another drawn-in-pen jobbie, intentionally made to look like cheesy, "businessman on the go" clip art. Assistance from Photoshop and Freehand helped round off the image. You can click here for a closer look at the original pen drawing.