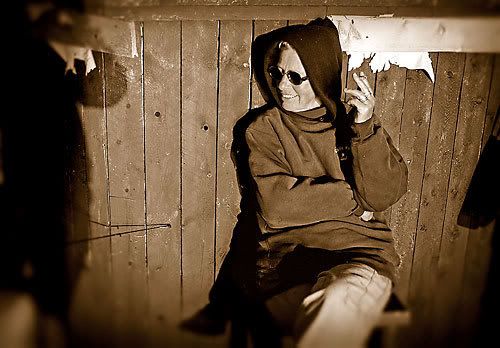 On first glance this may not seem to exemplify Photo Friday's current theme of

ambushed

. But an ambush of sorts is what it took to get this shot, taken in the spring of 2002 near the outpost town of Roddickton, Newfoundland. This is my mom, a difficult photo subject – with a lengthy record of declining photos and snubbing the camera. On this trip the two of us took together to The Rock, we stayed with a friendly local couple at their cabin (a misnomer, kind of, the place was nine miles' boat ride from their house). Holed up there on a lousy, wet Newfie day, the sun finally broke through with about an hour's daylight to spare – and we tried fishing; rather, my mom and I watched our hosts as they explained the finer points of trying for some of their native ocean-going species. Camera at the ready for a potential bite, I nabbed this shot as my mom was distracted for a moment. I'm not even certain she was even aware it had happened – a photo-ambush. And probably the most honest picture I have of her; no posing, no forced emotions, no hands-out refusal of my attempt.

You can click here for a more detailed image. I played a bit with the time-limited free download of Flaming Pear's Melancholytron photo filter on this shot.