Top row

(

left to right

): Jake and Lori butt beers; the resort beach at sundown; Frank toasts a successful snorkel.

Middle row

(

left to right

): a giant freakin' sea turtle!; Kerry and I on New Year's Eve; a giant freakin' iguana!

Bottom row

(

left to right

): trying to make sense of my new surroundings; the resort beach at night; Cadence turns the tables.

Winter is not kind here. It's dark and lifeless. It makes my nose run and my back itch. So the vision of a New Year's vacation to Cuba's Cayo Largo has been flooding my head since the first snowflakes fell in October. The fact that I would spend it with Kerry, my brother Jake and partner Lori, my sister Jainin, partner Roger and the precocious Cadence, and my dad Frank and wife Sue just made it all the more exciting. We all don't get together too often.
The resort we stayed at was overwhelming at first. The first week of the year is a busy one on Cayo Largo, the place filled with chirpy
Quebecois
, cocky Italians and swarthy, know-the-speak Spaniards and Argentinians. Once set up though, a pretty reliable rhythm was established, made of beach visits, naps, sizeable meals and late-day visits to the pool bar – complete with downings of mojitos,
cervezas
, banana mamas and champagne (my dad's poison of choice on more than one occasion).
Our first full day out, we hopped the train to nearby Playa Paraíso (not a real train mind you; more of a tractor rigged like a steam engine pulling refitted baggage trams). It was windy on the island; the water was calmer at Paraíso and we got a taste of what life would be like for the week. New Year's Eve at the resort was a scene, the main buffet hall filled with food to the rafters and a gaudy, colourful show at the theater through to the countdown. New Year's Day was spent getting acquainted with our own beach, which we found quite clothing-optional and pocked with fully-browned "naturists" of all makes. No deal, though; we're all cool and liberal enough to not care (I think). Cadence enjoyed the week in various states of undress.
Left

: Sue, Frank and Cadence meet some sand.

Right

: the ubiquitous pool
On Tuesday, Kerry, myself and my sister's family enjoyed a short tour of the village's turtle "farm", a small hands-on sanctuary of sorts for an assortment of the key's fresh- and salt-water turtles. Tacked on to the turtle tour was a visit to a small museum of island culture and history, with rooms devoted to reconstruction following a 2001 hurricane and photos of famous visitors, including 2000 media-child Elian Gonzalez and two of five Backstreet Boys. Kerry and I napped most of the afternoon, both of us not feeling great.
With some of us still recovering, we hit the beach Wednesday where I fulfilled my pre-vacation wish of building a sandcastle. Borrowing the maintenance man's spade, Jake, Roger and I set about constructing a circular white-sand Colosseum that could withstand rogue waves and house a spire-toppling Cadence at the same time. Kerry and I went for a beach stroll where we were able to get up close with a three-foot grey iguana.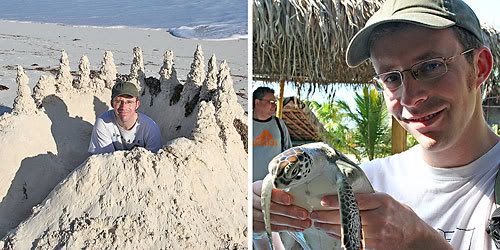 Left

: me, dwarfed by our Wednesday sandcastle.

Right

: me and a (somewhat) complacent sea turtle.
Thursday was a big day. We had all booked passage on a catamaran tour that would take us out on the water from mid-afternoon through well after sunset, with views of herons and mangroves and a stop at the crawling, aptly-named Cayo Iguana. From there our boat would take us to a reef for snorkeling (my first time, very nervous, I cut my foot slipping off the ladder) and a drop at the
piscina natural
, an offshore, slightly submerged sandbar that can give the illusion of walking on water. The anchor was dropped after sunset for an onboard meal of
langosta
, the sweet Caribbean spiny lobster, and a prime seat for the golden rising of a full moon.
Friday morning was spent quietly at the pool with Jainin and Cadence while Roger had a massage and the rest went on their own tour of the turtle farm and hopped a taxi to Playa Sirena for the afternoon. Kerry and I spent that time walking the lengthy shoreline from the resort to meet them, taking a couple of hours and exploring near-empty beaches that split the two locations. The iguana was stretched out on the exact same rock as on Wednesday. We watched a pair of crabs weather breaking waves on the sand, and saw an assortment of dark-skinned and occasionally leathery naturists. In the a la carte restaurant that night we toasted to a great week.
We all awoke early on Saturday to get the most out of the few hours we had remaining before takeoff. But rather than stuffing time with activity, the morning was largely spent standing in the waves or running in circles on the sand with Cadence. It was hot again. Sue and Frank have the enviable privilege of staying on an extra week.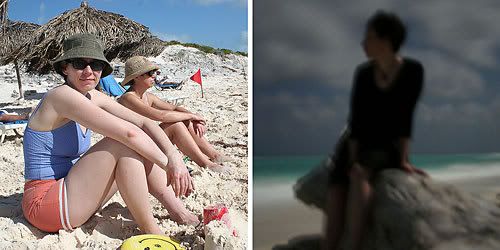 Left

: Kerry by day with Jainin.

Right

: Kerry by night in a cool, but fuzzy, handheld moonlight shot.
We arrived home at one in the morning. With a layover in Toronto, Kerry and I had been in transit for nine hours. It had snowed 30 centimeters in our absence. We went in the house where I promptly blew my runny nose and scratched my itchy back.
You can click here - often - for a better look at more holiday photos as they get added in the days to come.