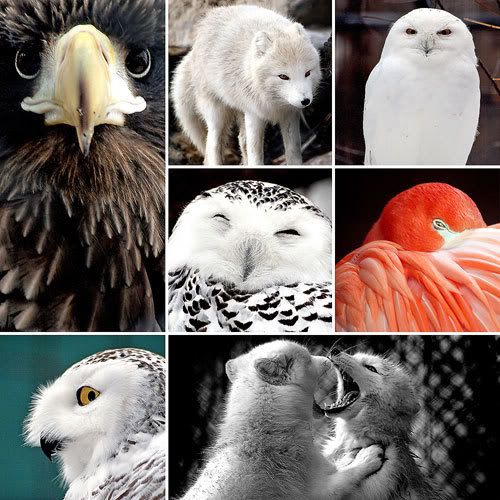 Top row

(left to right)

: dwarfed by the Steller's sea eagle; a fox makes the rounds; male snowy owl.

Middle row

(left to right)

; a seemingly cheerful female snowy owl; irked flamingo in the tropical house.

Bottom row

(left to right)

: an owl shows off her good side; fox fight!
Last weekend I borrowed (and eventually bought) a Sigma 70-300 4/5.6 APO Macro Super lens for my Rebel and took it to the Assiniboine Park Zoo for a few hours of playing about. Early spring at the zoo means not much is doing, but the critters who can relate to our climate here are indifferent to the temperatures and some were more than willing to stare down the gut of my lens as I figured out how to use it. Others were not as cooperative, like the cougar that paced and meowed and the giant bull elk that bared its teeth and hissed. But as you can see above, I had some decent moments with the arctic foxes, snowy owls and the formidable Steller's sea eagle (an eight-foot wingspan – I'm glad I was on the right side of the fence). And now I can't wait to go back when it warms up and more becomes available.

Better looks at these photos are slowly being added to my Flickr page. And incidentally, the cheery-looking owl in the middle is my submission for PhotoFortnight's upcoming theme of "happy" – go and vote!