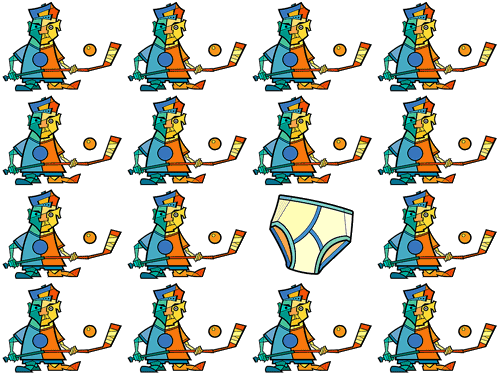 ... something that does not belong.
Go ahead. Take your time.

In the meantime, I'll mention how this illustration was inspired by a number of people's work, chief among them the geometric wiz-work of vector-strator Von Glitschka, the equally intricate and jigsaw stylings of Michelle White (aka rottentuna) – and finally, for his own quite-fine vector work and penchant for random shouts of "underpants!" on the HOW Design Forum (and possibly elsewhere), the talented Nathan Santistevan at Doggydoodle. I myself don't dabble in the world of vectors that often, but there was definitely something in the direction this one-time pencil sketch was going that lent itself to an attempt.
So, figured it out yet?

Regardless, below is a view at some of the detail – but be sure to click here for a full-blown view of the whole deal. It's worth it for this one to see it bigger.